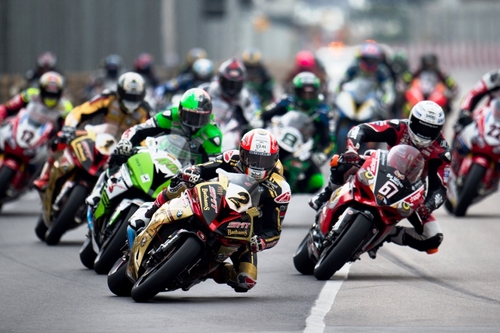 Suncity Group Macau Motorcycle Grand Prix - 51st Edition
The Macau Grand Prix Organizing Committee (MGPOC) held a press conference today (July 20) at the Macau Grand Prix Building to announce the race programme for the Suncity Group 64th Macau Grand Prix which will be held from November 16-19 this year.
The press conference was attended by: Mr. Pun Weng Kun, President of the Sports Bureau of the Macao SAR Government and MGPOC Coordinator; Mr. Chong Coc Veng, President of the Automobile General Association of Macao-China; Ms. Gina Lei, Senior Vice President - Corporate & Community Relations of title sponsor Suncity Group.
This year's Macau Grand Prix will showcase three prestigious international car races: The Suncity Group Formula 3 Macau Grand Prix has once again been designated as the official FIA F3 World Cup; and the SJM Macau GT Cup is the FIA GT World Cup for the third consecutive year. The Suncity Group Macau Guia Race will also count as a round of the FIA World Touring Car Championship (WTCC). This underscores the confidence the motorsport world governing body has in the organizational capabilities of Macao, as well as recognizing the worldwide reputation of the Macau Grand Prix.
The Suncity Group Macau Motorcycle Grand Prix - 51st Edition is also one of the four headliners on the six-race programme. The line-up also includes the CTM Macau Touring Car Cup and the Suncity Group Chinese Racing Cup.
Further information can be found on the official Macau Grand Prix website at www.macau.grandprix.gov.mo or by downloading the mobile applications.
View gallery