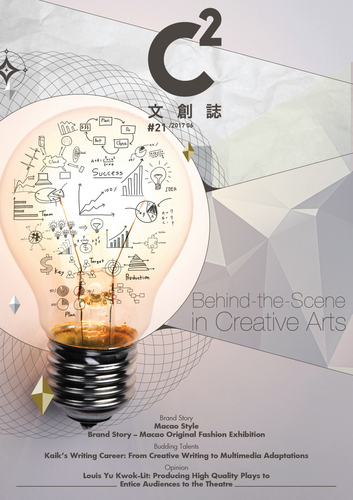 The 21st issue of C2
Published by the Cultural Affairs Bureau and produced by 100 Plus Cultural and Creative Development Ltd., the twenty-first issue of C2 Magazine will be launched on Wednesday, 7 June. Successful cultural events can encourage creative arts in Macao. In this issue, we invite representatives from music, fashion and drama sectors to share their experience in brand building and programme planning.
In the section "Feature", Jones Chong Cho Lam, Chairman of the Macau Artistes Association that organised the inaugural SIM Music Awards; mush.Room, which made a name by organising creative markets and indie concerts; and Johnny Tam, artistic director of the BOK Festival and the Macau Experimental Theatre, share their insight into the operation of successful events.
The column "Opinion" invites Louis Yu Kwok-Lit, Executive Director of Performing Arts of the West Kowloon Cultural District, to give his insight on managing and operating cultural venues, as well as the relationship between theatre, venue and audience. Macao Fashion Gallery is holding the "Brand Story—Macao Original Fashion Exhibition" in this summer, successively showcasing the stories and life attitude behind six local fashion brands. JADE. L's Jade Leong and MACON's Jane Chan are invited to share their creative concepts and ideas of design in the section "Brand Story". In "Budding Talents", young romantic fantasy fiction writer Kaik talks about the radio drama and comic adaptations of her work Redemption. In the "Blogs" section, seven columnists, Joe Tang, Ho Ka Cheng, Yi-Hsin Lin, Yap Seow Choong, Ron Lam, Lam Sio Man and Cheong Sio Pang, continue to share their unique perspectives on the development of the cultural and creative industries.
C2 is a trilingual magazine (in Chinese, Portuguese and English). Readers are welcome to browse or download the magazine at www.c2magazine.mo. C2 is a bimonthly magazine issued on the first Wednesday every two months. The next issue will be launched on 3 August 2017. The email subscription function is now available. Simply click the "subscribe" button on the right corner of the magazine's webpage and enter your email address to subscribe C2 magazine. For the latest updates, you may also visit the magazine's page on Facebook at www.facebook.com/c2magazine.macau, or on WeChat, by clicking "add friend" and inputting "c2magazine" in the ID column. For enquiries, please email to c2magazine.macau@gmail.com.
View gallery