Sona Jobarteh is the first female kora virtuoso to come from a West African griot family. Reputed for her skill as an instrumentalist, distinctive voice, infectious melodies and grace onstage, Sona has rapidly risen to international success following the release of her critically acclaimed album Fasiya (Heritage), in 2011.
Sona's family carries a heavy reputation for renowned kora masters, notably her grandfather Amadu Bansang Jobarteh who was an icon in Gambia's cultural and musical history, and her cousin Toumani Diabaté who is renowned for his mastery of the kora. Breaking away from tradition, Sona is a pioneer in an ancient male-dominated hereditary tradition that has been exclusively handed down from father to son for the past seven centuries.
Kora, a 21-stringed African harp, is one of the most important instruments belonging to the Manding peoples of West Africa, and only those who are born into a griot family have the right to take it up professionally.
Duration: Approximately 1 hour and 15 minutes, no interval
Programme Highlights
Jarabi
Gambia
Kaira
Gainako
Kanu
(Subject to change)
Sona Jobarteh, Vocal, Kora and Acoustic Guitar
Derek Johnson, Electro Acoustic Guitar
Andi Mclean, Bass and Vocal
Mamadou Sarr, Percussion and Vocal
Westley Joseph, Drums and Vocal
Sidiki Jobarteh, Balafon and Percussion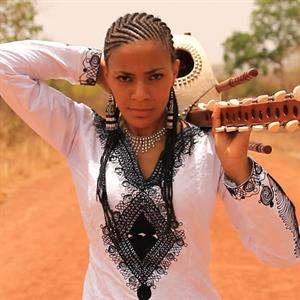 ---