Macao SAR Government Portal
News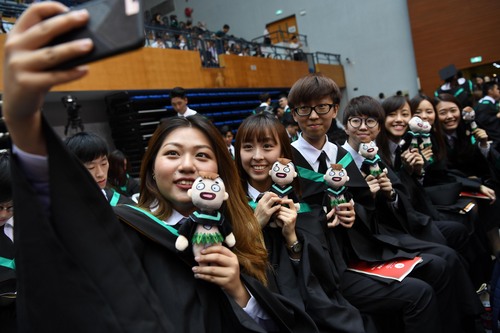 Graduates take photos of the beautiful moment
The University of Macau today (26 May) held the Congregation 2018. Chui Sai On, chief executive of the Macao SAR and chancellor of UM, said at the ceremony that tertiary education is key to producing talented individuals, and an 'intellectual' bank is important for Macao. He pledged continued support to the university in its pursuit of curriculum reform, development of the residential college system, and whole-person education.
…
---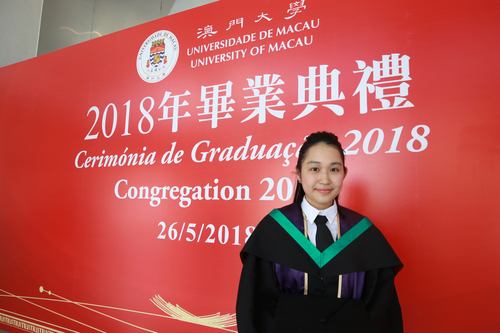 Graduating student Ieong Un Si
The University of Macau (UM) today (26 May) awarded academic prizes to 63 outstanding graduates at the Congregation 2018. In this academic year, the university gave out a total of MOP 4 million in over 60 kinds of academic prizes and scholarships to more than 380 students.
…
---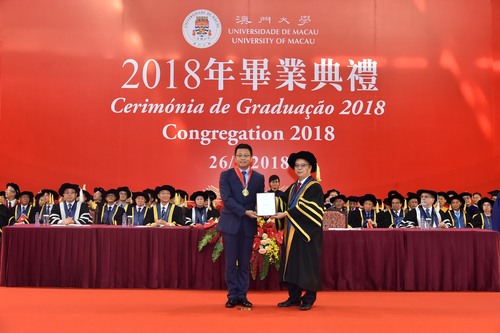 Faculty of Law Associate Professor Shui Bing, this year's recipient of the UM Teaching Excellence Award.
The University of Macau (UM) today (26 May) presented the Teaching Excellence Award at the Congregation 2018 to recognise outstanding performance in teaching. The recipient was Faculty of Law Associate Professor Shui Bing.
…
---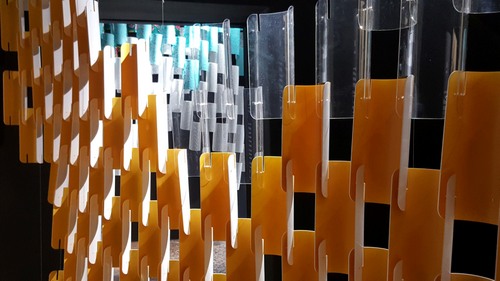 The public can experience the concept of"Unintended Architecture" through the blanks in complex spaces that allow them to reflect their feeling, memory and imagination.
Organised by the Macao Museum of Art (MAM) of the Cultural Affairs Bureau (IC), in co-operation with the Architects Association of Macau (AAM), the exhibition "Unintended Architecture – Exhibits from Macao, China" was inaugurated at the 16th International Architecture Exhibition, La Biennale di Venezia in Venice, Italy, at 6pm (local time) on 25 May. This is the third time Macao architects have presented their works in this major international architecture event. The exhibition team, comprising curator Manuel Lam Lap Yan and local architects Eddie Ieong Chong Tat, Vong Ka Ian and Benny Chu Hou San, introduced Macao's characteristic "Freespace" through abstract means to audiences from around the world.
…
---
---
---
UM is the first public university in Macao to hold a flag-raising ceremony on campus.
The University of Macau (UM) today (26 May) held its first flag-raising ceremony to celebrate the congregation day, becoming the first public university in Macao to have held a flag-raising ceremony on campus. Officials from the central government and Macao SAR government, prominent members of the community, as well as more than 800 faculty members and students attended the ceremony. Some students say that the ceremony increased their sense of belonging to China.
…
---
---
The Chief Executive, Mr Chui Sai On, is to lead a Government delegation to Beijing for the launch ceremony of the Beijing-Macao Cooperation Partnership 2018 and the signing of some cooperation agreements.
…
---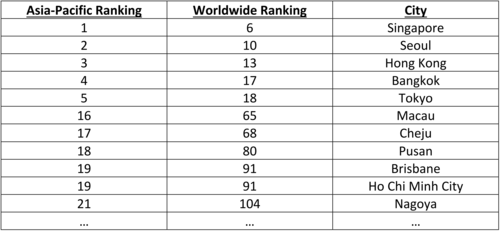 Macao´s ICCA ranking among major cities in Asia-Pacific
The International Congress and Convention Association (ICCA) has recently released its International Meetings Market 2017 Report. According to the said report, Macao has obtained promotions in several facets for the second consecutive year. Namely, Macao jumps to 65th in worldwide city ranking and claimed the 16th place in Asia-Pacific. Furthermore, 39 international meetings held in Macao were recognised by ICCA. The results are encouraging.
…
---