Welcome to GOV.MO
The best place to find Macao SAR government services and information
View all
Remark: The public services information will be updated constantly and transfered to this website.
The Day following Chong Chao (Mid-Autumn) Festival
Obligatory holiday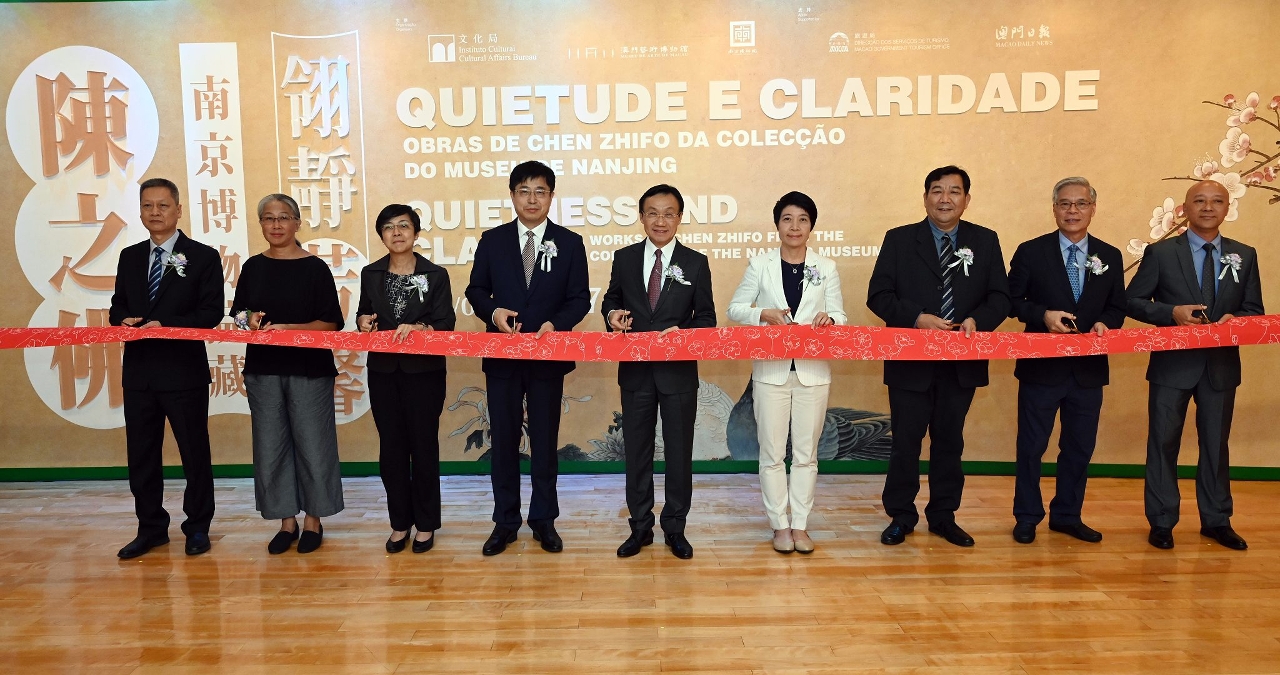 "Art Macao" introduces the artistic world of Chen Zhifo in an exhibition of bird-and-flower paintings at Macao Museum of Art
In order to strengthen cooperation and exchange of cultural institutions of Macao and Nanjing, the Macao Museum of Art (MAM), under the auspices of the Cultural Affairs Bureau, and the Nanjing Museum jointly organize the exhibition "Quietness and Clarity: Works of Chen Zhifo from the Collection of the Nanjing Museum". The opening ceremony of the exhibition was held on 23rd August, at 6:30pm, at the Special Exhibition Gallery on the 4th floor of MAM and was officiated by the Secretary for Social Affairs and Culture, Alexis Tam Chon Weng; the Director of the Department of Publicity and Culture of the Liaison Office of the Central People's Government in the Macao S.A.R., Wan Sucheng; the Acting President of the Cultural Affairs Bureau, Leong Wai Man; the Director of the Macao Government Tourism Office, Maria Helena de Senna Fernandes; the Deputy Director of the Nanjing Museum, Li Minchang; the Acting Vice President of the Cultural Affairs Bureau, Lau Fong; the Executive Vice President of the Yu Un Chinese Calligraphers and Painters Association of Macao; Sio Chun Iun; the Vice President and General manager of the Macao Daily News; Wan Nang Hon; the President of the Macau Artist Society, Lok Hei.
…
---
Government conducts more than 60 statistical projects every year, covering various demographic, social and economic aspects. Data collected from the surveys, after processing and analysis, are aggregated to statistical indicators, tables and graphs, which are disseminated on the DSEC website, in press release, publication, etc. See schedule for press releases on statistics
2.60
Composite Consumer Price Index – Year-on-year change (%) (Jul/2019)
672.0
Total Population ('000) (2nd Quarter/2019)
1.7
Overall unemployment rate (%) (Apr - Jun/2019)
24,453
Gross revenue of games of chance (million MOP) (Jul/2019)
---
Public Information Centre
When you wish to lodge a complaint or make suggestions to any government department, please feel free to contact us.
8866 8866