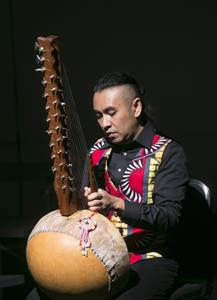 Speaker: Halen Woo
Language: Cantonese
Female kora virtuoso Sona Jobarteh will bring the unique texture and charms of West African music to this year's Music Festival. Let's warm up and prepare to feel the passion of African music!
Halen Woo, born in Africa and raised in Hong Kong, will give an introduction of the background of Sona Jobarteh and the characteristics of her music. Furthermore, he will demonstrate live the different types of African instruments. Come experience the magic of African music.
Speaker
Born in Madagascar and grew up in Hong Kong, Woo first studied rock guitar, and later African and Cuban music. Since 2010, he has visited Cuba several times to learn from "LALI" Raul Gonzalez Brito, Francisco "Frank" Oropesa "El Matador", Degoberto Sacerio Oliva, etc. From 2013, he starts visiting Japan annually to learn African music and dance with Hiroki Murai, Yacouba Diabate, Lamine Traore, Rumiko Fuji, Takada Shinobu, among others. In 2014, he performed with the well-known Gekidan Africa in their annual performance Carnival in Fukuoka, Japan and later become a member of them.
Woo is one of the founders of the African music group ONE Harmony Drumming Factory and has performed in Imagine Peace, Africa Soul Party, Freespace Happening of the West Kowloon Cultural District, to name a few. He is also the percussionist of Banda Orbita, an Afro-Cuban Jazz group in Hong Kong. As a Cuban music instructor, he teaches in different schools and organisations and is invited to conducttalks by educational institutions.
---