The versatile Dorian Wind Quintet will showcase its masterful interpretation of music of all periods, from transcriptions and rearrangements of masterpieces of the Renaissance and Baroque period to the 20th century and contemporary works by American and French composers.
Recognised for its polished and passionate performances, Dorian Wind Quintet is known worldwide as one of chamber music's pre-eminent and longest continuously-active ensembles. Since its inception in 1961, the Quintet has collaborated with many legendary artists, including Phyllis Bryn-Julson, Lukas Foss and Lorin Hollander.
It has travelled around the world, concertising in the United States and Canada, touring Europe, the Middle East, India, Africa and Asia. It made history in 1981, as the first wind quintet to appear at Carnegie Hall. It has appeared at the Stravinsky Festival at Lincoln Center, the International Festival of Warsaw, Caramoor International Music Festival, among others.
Duration: Approximately 1 hour and 45 minutes, including one interval
Programme Highlights
Trans. R. Roseman: Renaissance Suite for Woodwind Quintet
J. Ibert: Trois pièces brèves
A. Harberg: Suite for Wind Quintet
J. S. Bach / Arr. M. Rechtman: Fugue in G Minor, BWV 578 ("Little Fugue")
P. Hindemith: Kleine Kammermusik, op. 24, no. 2
Gretchen Pusch, Flute
Gerard Reuter, Oboe
Benjamin Fingland, Clarinet
Adrian Morejon, Bassoon
Karl Kramer-Johansen, Horn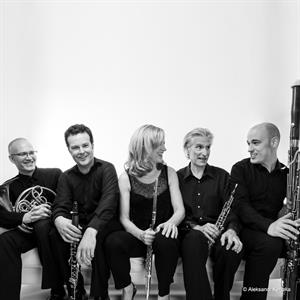 ---