Come to Lou Kau Mansion and be amazed by the masterpiece by one of the greatest artists. Drawing from the design and traditional craftsmanship of Lingnan residential architecture while integrating elements of Western aesthetics, this charming mansion of a once powerful merchant family will be on sale soon!
The performers of Property Guide at Lou Kau Mansion will play real estate agents, and guide the audience on an extraordinary tour of the mansion. With a combination of multimedia elements, such as light, animation and sound effects, the performance presents the transitions in the mansion over the past century, and invites the audience to experience the ups and downs of Macao.
This performance debuted at the Macao City Fringe Festival in 2020, and has been recommended by the artistic advisors of the Macao City Fringe Festival to be restaged at the Macao Arts Festival this year.
Directors: Jay Lei and Shuk Man Lee
Performers: Helen Ko and Kate Leong
Lighting: Akimoto Chan
Music: Ellison Lau
Remarks:
- Audience will need to walk from place to place following the performers.
Duration: Approximately 45 minutes, no interval
Performed in Cantonese, no surtitles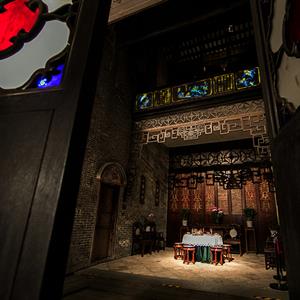 ---