This summer, the Macao Chinese Orchestra will host a sharing by its principal suona player, Tian Ding with Fans, at the Navy Yard No.2. A graduate from the Central Conservatory of Music, Tian Ding has been principal suona of Macao Chinese Orchestra and teacher at Macao Conservatory since 2004. In 2013, he launched his solo album, Love of Sichuan (Chuan Jiang Qing), and in 2015, published an album on suona performance in Chinese orchestra, which is the first academic audio-visual production concerning orchestra performance in Chinese national instrumental music (with text analysis).
Developed from the perspective of orchestral performance, that album is of great significance to the overall development and progress of suona playing. In this sharing, Tian Ding will play with an ensemble A Hundred Birds Paying Tribute to the Phoenix", Dreaming of Jiangnan at Night, Love of Sichuan, Monkey King, Hora Staccato and Teresa Teng classic songs. In the East-meets-West City of Macao Tian Ding performs on suona different styles, from traditional classics to Chinese works with local characteristics to Western pieces, to online hits and classical songs, giving music fans a comprehensive understanding of this instrument while showing music's artistic charm without borders or boundaries.
In this sharing session music, fans will not only enjoy the music but also broaden their knowledge of Chinese music.
Concert Details:
Date: 2021-06-12 (Saturday)
Time: 18:30
Venue: Navy Yard No.2
Duration: Approximately 60 minutes
Tickets: Free admission (Registration from 3pm on June 5, while stocks last)
Registration: https://www5.icm.gov.mo/eform2/event/c/0/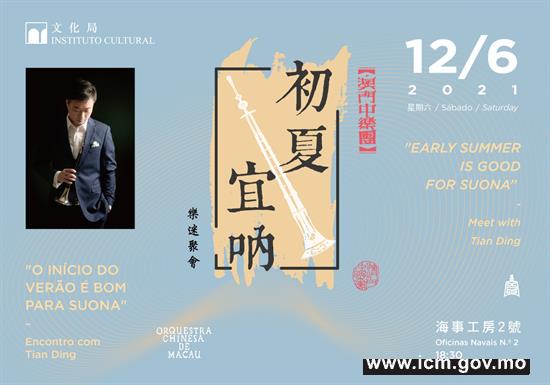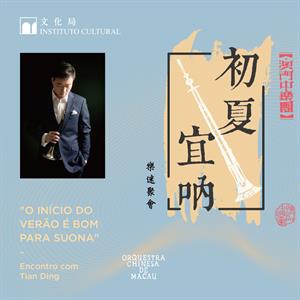 ---