Conductor: Lio Kuokman
Director: Martin Lyngbo
Revival Director: Line Kromann
Lighting Design: Ulrik Gad
Set and Costume Design: Rikke Juellund
Macao Orchestra
Co-production: Cultural Affairs Bureau of the Macao Special Administrative Region Government and Royal Danish Theatre
6/1020:00
Figaro: Xiaomeng Zhang, Baritone
Rosina: Hongni Wu, Mezzo-soprano
Count Almaviva: Matteo Macchioni, Tenor
Bartolo: Ao Li, Baritone
Basilio: Julian Lo, Bass
Berta: Chueh-Yu Lai, Soprano
Notary / Officer: Siu-Hong Lei, Baritone
7/1020:00
Figaro: Ilhun Jung, Baritone
Rosina: Hongni Wu, Mezzo-soprano
Count Almaviva: Chuan Wang, Tenor
Bartolo: Ao Li, Baritone
Basilio: Julian Lo, Bass
Berta: Chueh-Yu Lai, Soprano
Notary / Officer: Siu-Hong Lei, Baritone
8/1015:00
Figaro: Xiaomeng Zhang, Baritone
Rosina: Jo-Pei Weng, Mezzo-soprano
Count Almaviva: Matteo Macchioni, Tenor
Bartolo: Ao Li, Baritone
Basilio: Julian Lo, Bass
Berta: Chueh-Yu Lai, Soprano
Notary / Officer: Siu-Hong Lei, Baritone
8/1020:00
Figaro: Ilhun Jung, Baritone
Rosina: Hongni Wu, Mezzo-soprano
Count Almaviva: Chuan Wang, Tenor
Bartolo: Ao Li, Baritone
Basilio: Julian Lo, Bass
Berta: Chueh-Yu Lai, Soprano
Notary / Officer: Siu-Hong Lei, Baritone
The young Count Almaviva falls in love with Rosina, a wealthy maiden, but her covetous guardian, Dr. Bartolo, who wants the young woman's money for himself, will use every possible means to sabotage their love. With the help of Figaro, an energetic, resourceful barber, the enamoured couple eventually overcomes all obstacles and are happily married.
Premiered in 1816 with original music composed by Gioachino Rossini, The Barber of Seville is an adaptation of the eponymous comedy by French playwright Pierre Beaumarchais, that to this day enjoys far and wide popularity. In 2018, the Royal Danish Theatre joined hands with rising theatrical director Martin Lyngbo to reinterpret this classic through the black and white shades of an early 20th Century silent film. The collaboration resulted in a fast-paced comic opera filled with both solemnity and humour, a brand-new audio-visual experience that delights music lovers the world over.
Lio Kuokman, the festival's programming director, collaborates with the Macao Orchestra, accompanying a brilliant cast to present a long-awaited operatic feast. Lyngbo's version of The Barber of Seville brings us the vitality of opera sprinkled with renewed wit and vigour.
Duration: Approximately 2 hours and 45 minutes, including one interval
Performed in Italian, with surtitles in Chinese and English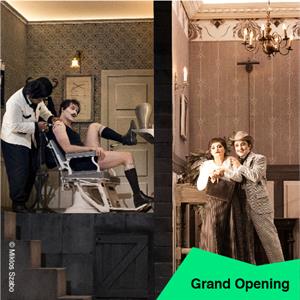 ---