Jiangnan Sizhu refers to the wind and string music which is popular in Jiangnan region, China, and has been inscribed on the National List of Intangible Cultural Heritage. In this year's Music Festival, Shanghai Traditional Music Society will showcase the quintessence of Jiangnan Sizhu for three consecutive nights at the Mandarin's House, one of Macao's World Heritage sites.
Established in the 1940s, Shanghai Traditional Music Society is a non-governmental Chinese music organisation founded by Sun Yude, a student of renowned pipa performer Wang Yuting. Not only was Sun reputed for his pipa performances in his early years, , he was also a prolific dongxiao musician and was hailed as the "King of Dongxiao" from home and abroad.
After 1981, Sun's daughter, Sun Wenyan, summoned the old members to revive the Society. Shanghai Traditional Music Society aims to preserve the traditional tunes of Jiangnan Sizhu, as well as retain its elegant, gentle and soft rhythms and temperament. The Society has won awards and recognitions in various Jiangnan Sizhu competitions and exchanges over the years.
Duration: Approximately 1 hour and 15 minutes, no interval
Programme Highlights
18/10
Rainbow Raiment Song
Moderately Ornamented Six Beats
Procession
19/10
Cloud Celebration
Autumn Moon over Han Palace
Southern Palace
20/10
NightRainPattering Upon Plantain Leaves
Flying Partridge
Reflection of the Moon on the Springs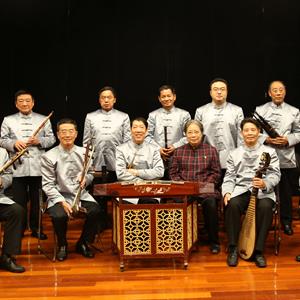 ---