The Grand Song of the Dong ethnic group, popular in Guizhou and Guangxi provinces, narrates the history, culture and knowledge of the Dong people. With a history dating back to the Spring and Autumn Period (771-476 BCE) and the Warring States Period (475-221 BCE), it was inscribed on UNESCO's Representative List of the Intangible Cultural Heritage of Humanity in 2009. This unique singing performance will take the audience through different eras of the history of the Dong ethnic group.
The Congjiang Ethnic Art Troupe from Guizhou, founded in 1983, consists of performers from a variety of ethnic groups, including Miao, Dong, Han, Zhuang, Yao and Shui. The Troupe often represents Guizhou province to perform, and has participated in cultural exchanges and performances in Asia, Europe and Americas in presenting China.
Duration: Approximately 1 hour and 30 minutes, no interval
Programme Highlights
Siai Searching for Songs
Dong Ancestors Settling Down at Dong Village
Singing under the Moon
Fighting for the Chicken at Drum Tower
Fun-filled Dong Village
Director: Lu Yunghua
Stage Directors: Liang Huan and Pan Huaiying
Performers: Liang Aiqing, Lu Qiuyuan, Wu Fentian and Pan Xiaowei
Remark:
For tickets registration, please refer to Booking Guide.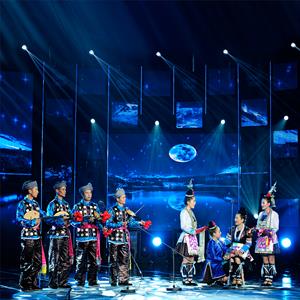 ---