N'Namdi Bryant, Sean Simmonds, Roderick Eldridge, Ricky Cort, Warren Thomas, Dwight Stewart and Roger Thomas, Vocals
Once heard, never forgotten! Naturally 7 is an American band with a unique a cappella technique they call "vocal play", producing music of any genre, effortlessly transforming their voices into actual human instruments. These absolute wizards of sound will perform track after track of big screen masterpieces, adding a dimension that makes these all-time favourites stunning again. The singers' vocal harmony is so perfectly knitted that it makes them more than a tightly orchestrated collection of tuned voices.
Having won great acclaim in The World's Best TV show, Naturally 7 travelled with Michael Bublé on three world tours as special guests, completing nearly 500 concerts. The band also shared the stage with numerous other icons, from Stevie Wonder and Diana Ross to Quincy Jones, amongst many others. Let us get ready for an evening of unbelievable sonic mastery, a treat that will forever stay in our melodic memory!
Duration: Approximately 1 hour and 15 minutes, no interval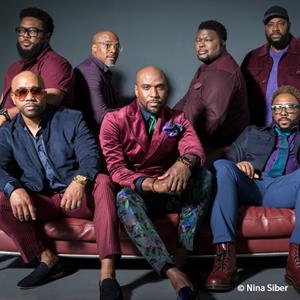 ---