Language: Cantonese
Duration: Approximately 30 minutes
The festival specially presents Community Activity: Flowing with Music to spread the charm of music in the community through a roving showcase that combines melodic and theatrical elements. Come enjoy this musical journey and feel the chemistry between beautiful melodies and intriguing stories!
Rehearsal of Hou Yi Shooting the Sun
A director is rehearsing Hou Yi Shooting the Sun, yet the actor is unable to feel the appropriate emotions. A musician approaches the perplexed duo and plays a Chinese traditional piece, inspiring them, revealing the the use of blown, plucked, bowed and percussion instrument techniques, unique to this genre to render dramatic tension and apply them to the performance.
The Lovers' Music
Hailed as the most romantic of music genres, tango conveys lovers' passion and frustration, contradiction and closeness. Combining drama, dance and movement, this production relates the relationship of two young lovers throughout the stages of attraction, revealing the intense connection between tango and romance amid live music performance.
Musik Macht Frei
The scores of The Last Emperor, The Revenant and Call Me by Your Name remind us of the famed musician Ryuichi Sakamoto. In the year of his passing, let us revisit Sakamoto's life through music and relive his free-spirited existence.
Stories to be performed

Location

Date

Time

Rehearsal of Hou Yi Shooting the Sun

Leisure Area of Edif. Wang Hoi & Wang Kin

16/9(SAT)

16:00 / 17:00

17/9(SUN)

16:00 / 17:00

The Lovers' Music

Iao Hon Market Park

14/10(SAT)

16:00 / 17:00

15/10(SUN)

16:00 / 17:00

Musik Macht Frei

Taipa Central Park

21/10(SAT)

16:00 / 17:00

22/10(SUN)

16:00 / 17:00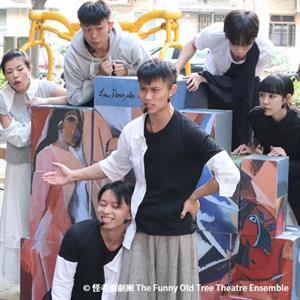 ---