Exposed to the elements, under a wide-open sky, six inhabitants of an isolated mountain-top community grapple with a blurred reality and their visceral responses to an inescapable loneliness.
Belgian physical theatre provocateursPeeping Tom will come to Macao with a hyper-real collision of jaw-dropping physicality, cinematic realisation, macabre slapstick and an unsettling soundtrack from Bellini, Stravinsky and Pink Floyd. When the boundary between reality and imagination blurs, the characters lose themselves in a haunting world where humanity and humour punctuate their isolation.
One of the inspirational sources being Shohei Imamura'sThe Ballad of Narayama, where an old woman is taken to the top of mountain by her son to die. 32 rue Vandenbrandenis an intoxicating, genre-defying volley from the subconscious: poetic, mesmerising and utterly unique.
Concept and Direction: Gabriela Carrizo and Franck Chartier
Dance and Creation: Jos Baker, Eurudike De Beul / Madiha Figuigui, Marie Gyselbrecht, Hun-Mok Jung, Maria Carolina Vieira (before: Sabine Molenaar) and Seoljin Kim
Dramaturge: Hildegard De Vuyst and Nico Leunen
Co-producers: Koninklijke Vlaamse Schouwburg, Künstlerhaus Mousonturm Frankfurt am Main, Le Rive Gauche, La Rose des Vents, Theaterfestival Boulevard's-Hertogenbosch / Theater aan de Parade / Verkadefabriek, Gessnerallee Zürich, Cankarjev Dom and Charleroi danse.
Duration: approximately 1 hour and 20 minutes, no interval
Not suitable for audiences under 13 years of age (contains adult content)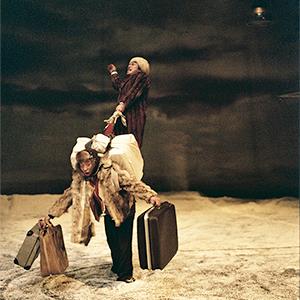 ---