A pair of lovers, whose fathers are old enemies, do not want to suffer the same fate as Romeo and Juliet. How do they overcome all the difficulties? The composer of the farce, with a witty and brisk score, is Gioachino Rossini, the most humorous and bestselling opera composer in the history of Western opera.
Rossini was a master of humour with a great insight of life, quoted as joking, "Give me the laundress' bill and I will even set that to music." Breaking the stereotype of Italian opera, the one-act Il Signor Bruschino eschews disguise and argumentation and, with interesting music and techniques, explicitly depicts the reality where people alternate between distress and joy. The farce, one of Rossini's early works, will be presented by Opéra de Chambre de Genève, on the occasion of the 150th anniversary of the composer's death.
Duration: approximately 1 hour and 30 minutes, no interval
Performed in Italian with surtitles in Chinese, Portuguese and English
Music Director: Franco Trinca
Director, Set and Costume Design: Primo Antonio Petris
Lighting Design: Mario Bösemann
L'Orchestre de Chambre de Genève
Production: Opéra de Chambre de Genève
Characters and Cast
Gaudenzio: Sacha Michon * , Baritone
Sofia: Marion Grange, Soprano
Bruschino, father: Michele Govi, Baritone
Bruschino, son / Police Officer: Frédéric Caussy, Tenor
Florville: Manuel Nuñez Camelino, Tenor
Filiberto: Wolfgang Resch * , Baritone
Marianna: Juliette de Banes Gardonne, Mezzo-soprano
* Due to illness, Filippo Morace will not be able to perform as Guadenzio. He will be replaced by Sacha Michon (originally cast as Filiberto), whereas the role of Filiberto will be performed by Wolfgang Resch.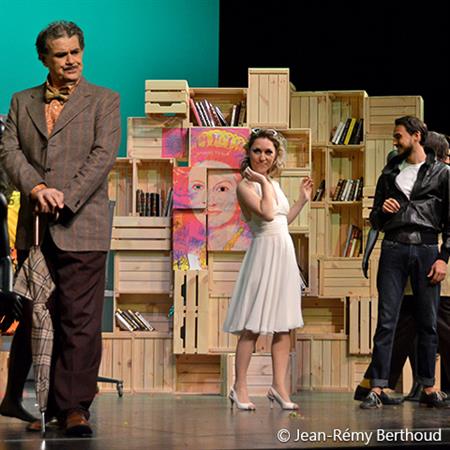 ---