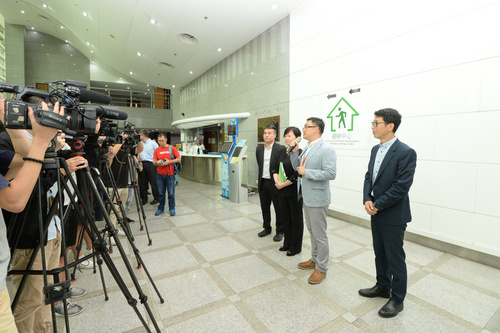 Government officials introduce facilities, equipment and operations of the shelter centres.
The Government's network of 16 emergency shelters spread across Macao can accommodate an aggregate of 24,000 people in case of storm surges during a typhoon.
Such shelters could be used if the Government issued an order to evacuate low-lying areas likely to be affected by storm floods during a typhoon.
The Government's shelter centre working group disclosed the information today during a tour of one of the shelter locations – Tap Seac Multi Sports Pavilion – arranged for media representatives to give them a better understanding about the operation of such facilities.
During an emergency, the shelters will provide supplies such as water and solid food as well as basics such as mattresses, washing facilities and access to battery charging points for digital devices. Signs inside each shelter provide relevant information in three languages: Chinese, Portuguese, and English – the most commonly used languages in the community.
In order to ensure the orderly evacuation of senior citizens and people with limited mobility from low-lying areas to a safer place – in the event of flooding linked to storm surges during typhoons – the Government has additionally identified four assembly points across the city.
Senior citizens and people with limited mobility will be able to use a transport service that will take them from any one of the four assembly points, to a nearby shelter.
Appropriate services at the 16 shelters and the four assembly points will be provided by a team of 600 people, drawn from those working either for government departments or schools, or for non-governmental organisations.
Today's media tour also visited Escola Primária Oficial Luso-Chinesa "Sir Robert Ho Tung". In case of emergency, a temporary office will be based there, for the coordination and management of shelter services. Via such an office – set up today especially for the media visit – the shelter centre working group and the Civil Protection Operations Centre can monitor real-time information such as shelter occupancy rate, the level of relevant supplies and shelter staffing arrangements.
The Government's shelter centre working group has representatives from the Social Welfare Bureau, the Education and Youth Affairs Bureau, the Sports Bureau and the Civic and Municipal Affairs Bureau.
View gallery