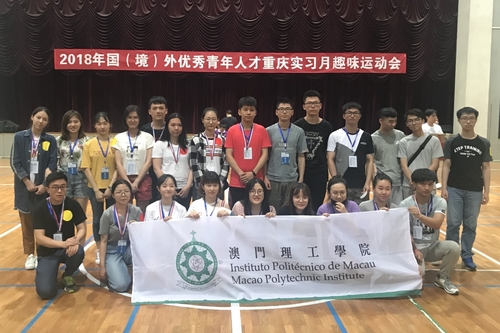 MPI students participating in the internship programme
During the summer vacation, the Student Affairs Office of Macao Polytechnic Institute (MPI) organized nearly 30 students of different programmes to participate in the Chongqing Internship Programme for the youth of Hong Kong and Macao, which was hosted by the Chongqing Talents Exchange Service Center. The 36-day work experience has played an important role in enhancing MPI students' understanding of Chinese corporate culture, broadening their horizons, and enhancing their employment competitiveness.
Students taking part in the internship programme are from Chinese-English Translation, Computing, Chinese-Portuguese Translation, Sino-Lusophone Trade Relations, Management, Accounting and other programmes. The internships cover finance, logistics, culture, science and technology, e-commerce and other industries.
Yan, who is an intern at the Three Gorges Museum in Chongqing, assists in the translation of various documents and serves as an English guide. She believes that the work of the museum involves bilingual and multilingual studies, and that English is widely used in cultural fields, while the number of translators and interpreters is relatively small, so being a Chinese-English translator or interpreter may become one of the best career choices in the future. Meng, an intern in Southwest Securities, believes that her busy and fulfilling internship, as well as the high efficiency and dedication of colleagues have greatly inspired her, and that responsibility, perseverance and sincerity are of great importance to her work. OSell is one of the first pilot companies (Cross-border e-commerce company) approved by China's Ministry of Commerce, and Li, a computing student who is interning at OSell, says that it is very beneficial to live and work like Chongqing people do every day, to meet the challenges of work and life, and to rediscover and recognize oneself. The mountain city's unique landscape, convenient mobile payment, fast light rail trains, and stimulating hot pot, are also unforgettable.
In addition to the internship, a series of well-arranged visits were organised, including the Liangjiang Robot Industrial Park, the Republic Street and the Chongqing Human Resources Industrial Park, as well as exchanges with the students of Chongqing Technology and Business University, so that the entire internship was colorful and enjoyable. MPI students said that through cultural visits and exchanges, they experienced the rapid development of Chongqing and the extensive and profound Chinese culture, and this appreciation deepened their sense of pride and belonging to the country. They believe that Chongqing's talent introduction policy is very diverse, offering many entrepreneurial employment opportunities, and the state formulates various policies to facilitate the employment of Hong Kong, Macao, and Taiwanese inhabitants in the Mainland. Therefore, Chongqing will be taken into account after graduation if conditions are ripe.
The Student Affairs Office of MPI said that the Chongqing Internship Programme is conducive to the establishment of talent exchange and cooperation mechanisms, so that students dare to challenge themselves, and learn how to accept new things. MPI aims to enhance students' understanding of the national conditions by conducting various internships. It aims to broaden the employment orientation of students and explore more development platforms and opportunities on mainland China to integrate them into the high-speed development of the country.
View gallery