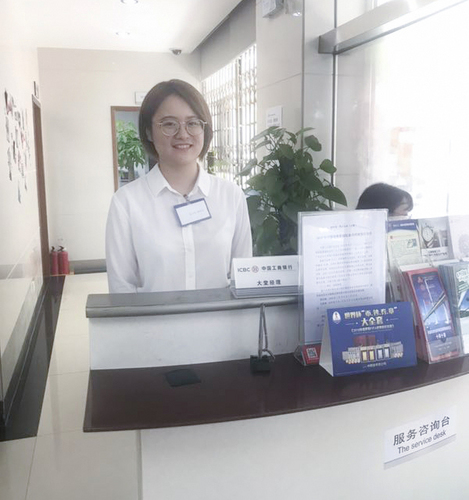 Han Xingyun
With the implementation of the Guangdong-Hong Kong-Macao Greater Bay Area initiative, young people from Macao now have an exciting new option when deciding where to pursue their careers after graduation. Several University of Macau (UM) students served internships in the Greater Bay Area in the just-ended summer holiday. What have they learned from their internship experiences? Will they consider finding a job in the area after graduation?
Han Xingyun, a postgraduate student from the Faculty of Business Administration, completed a one-month internship in the Hengqin branch of the Industrial and Commercial Bank of China, successively serving in three positions, as counter assistant, assistant branch manager, and assistant customer service manager. She was also involved in customer and market analysis and research. By applying the knowledge and skills in finance and marketing she learned at UM, she was able to complete her assignments smoothly. In Han's opinion, college graduates from Macao enjoy a competitive edge in the mainland job market, thanks to their English proficiency and their many internship opportunities before graduation. She advises college students in Macao to try the industries that interest them before graduation to gain practical experience.
Yang Hailin, a postgraduate student from the Faculty of Law, worked as an intern in the Law Enforcement Bureau in Hengqin New Area, assisting with administrative work in the Innovation Office. Yang thinks fresh college graduates have a lot to learn before they can become competent at their jobs. 'Even the seemingly simple clerical job requires one to constantly upgrade her knowledge and skills in order to meet the increasingly high standards,' she says.
Chen Yihuang, a fourth-year student from the Department of Electromechanical Engineering, served his internship at GAC Toyota Engine Co Ltd in Changsha, Guangzhou. 'When I was there, the company was building a new production line. I was fortunate enough to participate in technical management, and I was very impressed with the highly intelligent manufacturing system,' he says. An engineering major, Chen nevertheless makes a point of taking business-related elective courses at UM, as he believes the success of a product requires not only technical know-how, but also business acumen. His summer internship experience confirmed this belief. He says, 'There are many factors that contribute to the success of a product, including a standardised management system and precise cost control.' According to Chen, mainland companies favour college graduates from Macao for their global outlook. Chen is bullish about the career prospects in the Greater Bay Area, and will consider finding a job there in the future.
View gallery