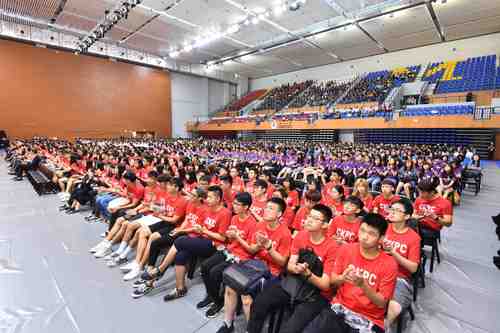 UM faculty and students at the convocation
The University of Macau (UM) today (20 August) held the convocation and an orientation seminar for the 2018/2019 academic year for over 2,000 new students. UM Rector Yonghua Song gave the new students their first lecture at UM. During the talk, he discussed how,against the background of the fourth industrial revolution, leading universities around the world should evolve and nurture outstanding professionals with a creative mindset to meet the challenges of today's world. He also encouraged students to treasure their time in college and make the most of UM's outstanding teaching environment and research resources, in order to increase their competitiveness in a global environment and inject a creative energy into China and Macao.
The convocation opened with a performance by the UM Symphonic Band. In his speech, Rector Song said that leading universities around the world have changed their mission with the advent of the era of technological revolution. Innovation-driven development has become a global consensus. Innovation education aims to bring about an 'impact' with six 'I', namely 'inspiring', 'interactive', 'interdisciplinary', 'internationalised', 'inclusive', and 'interconnected'. He added that in response to the world's demand for a new generation of professionals, UM has reduced the proportion of formal lectures in its undergraduate programmes and has increased training in leadership, research, and entrepreneurial skills, in order to increase students' competitiveness in a global environment.
Rector Song said UM is equipped with an international faculty team, an interactive teaching environment, state-of-the-art research facilities, a campus environment conductive to education, and a unique whole-person education model. Song urged the students to devote themselves to their studies and put knowledge into practice in order to contribute to the development of Macao, the Greater Bay Area, and China.
Classes in the new academic year will start on Wednesday 22 August. To help familiarise new students with the campus and adapt to a new chapter in their lives, UM in August organised a series of orientation activities, titled 'The Way to UM', including talks by faculty deans and residential college masters, as well as information seminars and orientation parties. An information session for parents was also held to help them learn more about UM's educational philosophy and latest developments. Before the convocation, UM held a flag-raising ceremony, which was attended by over 200 people, including UM students, faculty, and staff.
View gallery