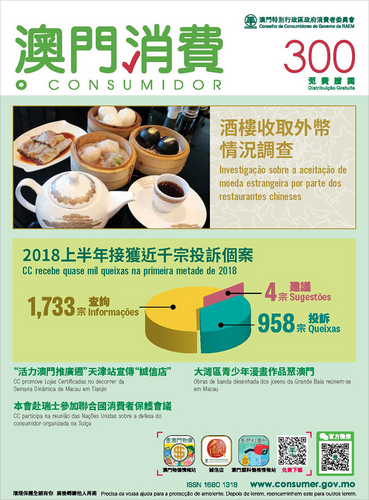 Consumer Report issue no. 300 now published
The Consumer Council published its latest issue no. 300 Consumer Report, featuring a survey report on how Chinese restaurants handle consumers paying with foreign currencies, a report on the cases received by the Council in the first half year of 2018 is also included.
Foreign currencies acceptance in Chinese restaurants
Macao receives many global tourists every day, some of them choose to pay in foreign currencies and a lot of them choose to dine at Chinese restaurants. The Consumer Council carried out a survey report on 69 Chinese restaurants, including "Adherents", "Certified Shops" and some general retail businesses, all restaurants state that foreign currencies are accepted and over half of them have the currency rate listed in their premises. All "Adherents" and "Certified Shops" are able to have the foreign exchange rate listed in their premises, this does not only safeguard consumers' rights but also allows consumers to consider the rate offered and decide whether to purchase or not.
The Council states that if foreign currencies are accepted by businesses, an exchange rate of MOP to the accepted currencies must be listed clearly in the premises to safeguard the right to information of consumers, and to avoid unnecessary misunderstandings.
2,695 cases received in first half of year
The Council handled a total number of 2,696 cases in the first half of 2018, 958 cases are complaints that amount to about 35 percent of the total number of cases. The top five categories are jewellery, real estate, public transportation, entertainment, and food & beverage service, with over 400 cases. The Council analyzes the core reason of these consumer disputes and releases a "Consumer Alert" to raise consumers' awareness on self-protection, suggestions are also made to businesses to safeguard consumers' rights.
The above features are both available in the latest issue of Consumer Report.
Supermarket app lucky draw game to be launched on 1 September
In order to collect consumers' comments on the Council's work on supermarket price survey and to enhance the quality of such work, the Consumer Council will be holding an activity for the collection of such comments. Consumers participating in the activity will be entitled to a lucky draw. The activity will start on 1 September and details can be found in Consumer Report.
Features on the Council's participation in two recent conferences held in Geneva, Switzerland and Taipei can also be found in this issue.
Consumer Report is now available free of charge at the Council (Av. Horta e Costa, N.º 26, Edf. Clementina Ho), and the service counter of the Council at Macao SAR Government Service Centre (Rua Nova da Areia Preta, Nº52), Public Information Centre at Vicky Plaza, libraries, and bookstores. Consumers may also access the magazine online on the Council's official website (http://www.consumer.gov.mo) and WeChat official account.
For enquiry, please call 8988-9315.
View gallery