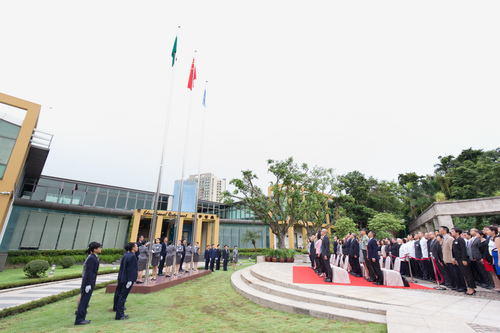 IFT holds National Flag Raising Ceremony
IFT 2018/19 Degree Programme Student Orientation Ceremony was held on 23 August with the presence of IFT faculty, bachelor degree programme freshmen and exchange students.
President of IFT, Dr. Fanny Vong presented her warmest welcome to the new comers during the ceremony. Dr. Vong encouraged the 512 new students to devote themselves in learning, be responsible for their own studies, make full use of the resources provided by the institute, and to embrace diversity of culture and knowledge to lay a solid foundation for life.
IFT held its first national flag raising ceremony on campus to strengthen the sense of national identity and foster the love for our motherland and Macao on Student Orientation Day. A total of more than 400 participants including representatives from Macao SAR Government, Liaison Office of the Central People's Government in the Macao SAR, Chinese People's Liberation Army Garrison in the Macao SAR, Office of the Commissioner of the Ministry of Foreign Affairs of the People's Republic of China in the Macao SAR, prominent members of the community, IFT students and faculty members attended the ceremony.
Established in 1995, IFT has made significant progress and achievements in various areas, increasing student intake, enhancing quality and variety of programmes and courses, as well as pursuing excellence in teaching and research over the years. Now IFT has grown as an internationally recognised institution. IFT collaborates with 104 universities and tourism organisations around the world, and builds strong links with 588 leading tourism and hospitality corporations to offer internship opportunities to its students. Being the first institution accredited by the UNWTO.TedQual Certification System for tourism education, IFT has now 8 bachelor degree programmes with the Certification. Currently, the Institute has the most number of bachelor degree programmes certified under the System of any tertiary education establishment worldwide. In 2017, IFT became the world's first higher education institution to pass International Quality Review(IQR) from the UK's Quality Assurance Agency for Higher Education (QAA). IFT has been highly ranked by QS World University Rankings in the subject area ofHospitality and Leisure Management.
IFT creates a multi-cultural learning and teaching environment for the students, with faculty members from 18 countries and regions around the world. For this academic year, international and exchange freshmen are from Austria, Brazil, Mainland China, Chinese Hong Kong, Chinese Taiwan, Finland, India, Japan, Malaysia, Vietnam, South Korea, the Netherlands, the Philippines, the Republic of Botswana, United Kingdom and USA.
In order to cope with whole-person development education model, IFT adopts a balanced curriculum of both theories and practices. It emphasises on student quality nurturing and always supports students to organise real hands on projects, among which some are charitable events. Through learning by action, students not only can help the needy and the community, but also put theories into practices. The experience of learning to work with people from different background and cultures sharpens their interpersonal skills. Besides, IFT encourages students to participate in extra-curricular activities and various overseas internship and exchange programmes, so that their 4-year university life could further flourish. It is hope that students can develop vital professional abilities, including teamwork spirit, organisational skill, time management skill, communication skill, as well as positive attitude that can help them to overcome challenges and develop them into knowledgeable, competent and hirable elites.
Being one of the public tertiary institutions in Macao, IFT will continue to cultivate tourism professionals and offer more dynamic courses to cope with the tourism development of Macao.
View gallery