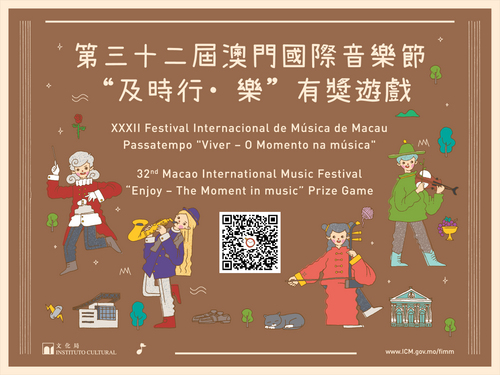 The "Enjoy – The Moment in music" prize game is launched on the website of 32nd MIMF
The 32nd Macao International Music Festival (MIMF), organised by the Cultural Affairs Bureau, will kick off on 28 September. The Organiser is launching a prized game on its website, offering participants a chance to win fabulous prizes.
This year's MIMF is themed "Enjoy – The Moment in music". In order to create a festive atmosphere, the Cultural Affairs Bureau is launching a prize game on the website of the MIMF from 29 August to 28 October. Participants who visit the game interface of the 32nd MIMF's official website and choose the music ambassador that represents their mood and the music festival programme that suits them the most, will stand a chance to win fabulous prizes in a lucky draw, including round-trip economy class tickets from Macao to any destination operated by Air Macau; MOP1500 free spending credit sponsored by Bank of China; accommodation packages (deluxe room) at The Parisian Macao, themed dining coupons at the IFT Educational Restaurant and souvenir sets of the 32nd MIMF. For more information, please visit the MIMF's website, follow the 32nd MIMF's page on Facebook and subscribe to the WeChat account "ICmacao". In conjunction with the opening performance, the opera L'Elisir d'Amore, IC has specially invited the Institute for Tourism Studies (IFT) to create the special mocktail "L'Elisir d'Amore", which will be available for sale at IFT's Educational Restaurant from 3 September to 31 October, allowing music aficionados not only feel the taste of love when watching and listening to the performances but also taste the magical power of the special drink.
This edition of the MIMF offers a rich variety of programmes. The Music Director of the Macao Orchestra, Lu Jia, will join hands with the Shanghai Philharmonic Orchestra to present Anton Bruckner's magnum opus, Symphony No. 8 in C minor, specially adopting the long-buried original version (1887); renowned Brazilian cellist Antonio Meneses, who won the first prize at the ARD International Music Competition in Munich and at the International Tchaikovsky Competition, comes to Macao to present a sophisticated repertoire, including Bach's Cello Suites, Pereira's Suite Macambira, Piatti's Caprices for Solo Cello and Cassadó's Suites for Cello Solo. The Festival comes to a close with two concerts by the Staatskapelle Dresden, one of the world's top ten orchestras boasting a history of over 400 years, under conductor Christian Thielemann, who will perform Schumann's complete cycle of symphonies, the most romantic German composer of the 19th century.
For more information about the programmes, ticket purchase and other discounts, please visit the Festival's website at www.icm.gov.mo/fimm. For enquiries, please call IC through tel. no. 8399 6699 during office hours. 24-hour ticketing hotline: 2855 5555. Ticketing website: www.macauticket.com.
View gallery