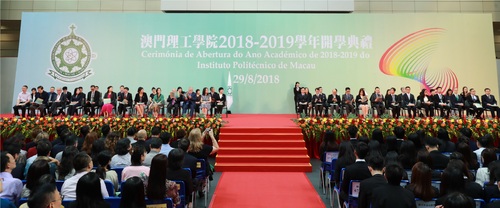 MPI awards scholarships to more than 500 outstanding students
To praise the students for their excellence in both conduct and academic performance, the Macao Polytechnic Institute (MPI) awarded scholarships to more than 500 outstanding students at the opening ceremony of the academic year 2018/2019 which was held on 29th of this month. Awarding scholarships affirms and recognises the students' efforts in the past academic year, to encourage them to strive for excellence in their studies, and to encourage other students to work hard to pursue academic progress and moral cultivation, as well as continuously upgrade their own value, to make contributions to Macao, the Greater Bay Area and the country.
In his speech at the opening ceremony, Im Sio Kei, the Acting President of MPI, expressed his pleasure to see that the awarded students have achieved excellent academic performance and actively participated in extracurricular activities and in service to the society. They have performed well in all aspects, hence they deserve to be awarded scholarships. Im Sio Kei sincerely congratulates them and expresses deep thanks for the support and trust of scholarship donors and individuals. All sectors of the community have provided scholarships for outstanding students of MPI, affirming the contribution and efforts of MPI in cultivating talents for the society and promoting the development of local higher education. As a higher education institution with the largest number of applications from Macao students for several consecutive years, having passed a rigorous international institutional review and being ranked as a 4-Star High-Standard University in Greater China, MPI will continue to focus on developing students' talents with multifaceted and all-round teaching and learning methods, so that they can become highly versatile and well-respected professionals with good values, moral cultivation, creative thinking and social responsibility.
Student Kuan, who majored in Chinese-English Translation and Interpretation, was awarded a scholarship by the Macao Foundation. He believed that the scholarship expresses the support and recognition of the higher education institutions on the part of the donors and the community, and reflects their praise for the outstanding students. He will remember the awards and honours, go forward with gratitude, pursue excellence and give back to the society. Student Tou, majoring in Sino-Lusophone Trade Relations, has received the Bank of China Scholarship. She has been to Portugal for exchange studies, and she thought that undergraduate students should understand and appreciate themselves, and always maintain a modest attitude of devotion to the learning process. Student Wong, who studies Public Administration, and who is the President of the MPI Student Union and member of the Cantonese Debating Team, was awarded the Macao Polytechnic Institute Alumni Association All-Rounders Scholarship. He believed that the Institute creates many learning and practical opportunities for students. In addition to theoretical teaching and professional knowledge transfer, it also attaches great importance to the application of knowledge and skills, encourages students to participate in different community activities, to learn about the society and on-site investigation, to think about different issues, to develop leadership skills and to strengthen communication skills. The Institute assists students to successfully equip themselves inside and outside the classroom for contributing to society in the future.
Many governmental agencies, organisations, enterprises and individuals who sponsor sponsorships to the MPI students attended the opening ceremony of the MPI and awarded scholarships to outstanding students. The institutions that sponsor the scholarships include: Macao Foundation, Macao Health Bureau, Macao Cultural Affairs Bureau, Macao Government Tourism Office, Sports Bureau, Macao Social Welfare Bureau, Macao Trade and Investment Promotion Institute, Bank of China Macau Branch, Henry Fok Foundation, The Venetian Cotai Limited, Industrial and Commercial Bank of China (Macau) Limited, Nam Kwong (Group) Company Limited, Galaxy Entertainment Group, Galaxy Entertainment Group Foundation, Wynn Resorts (Macau) S.A., MGM, LT Game Limited, Inspirational Youth Association, Companhia de Electricidade de Macau – CEM, S.A., Tai Fung Bank Limited, Companhia de Telecomunicações de Macau S.A.R.L. – CTM, Macao ASEAN International Chamber of Commerce, Macau Gaming Equipment Manufacturers Association, China Telecom (Macau) Company Limited, Jump Sport Products Co., Limited, Sociedade de Jogos de Macau, S.A., Macau Productivity and Technology Transfer Center, CPA Australia Ltd., The Institution of Engineering and Technology, Seng San Enterprises Ltd., Macau Interior Design Commercial Association, Macao Polytechnic Institute Alumni Association, The Hong Kong Polytechnic University, and Macao Polytechnic Institute.
View gallery