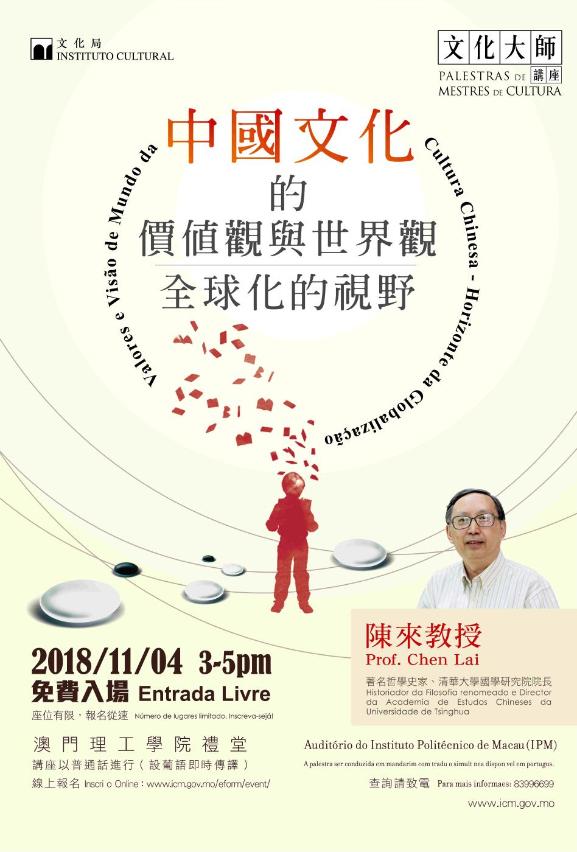 Renowned philosopher, Professor Chen Lai hosts the "Lecture by Master of Culture" on Sunday
In order to enrich residents' cultural life and to broaden their cultural horizons, the Cultural Affairs Bureau (IC) organizes the "Lectures by Masters of Culture" programme. This year's lecture "The System of Values and World Vision of Chinese Culture – The Globalization Perspective" will be held on Sunday, 4 November, at 3:00 p.m., at the Auditorium of the Macao Polytechnic Institute, hosted by renowned philosopher Chen Lai. Limited seats are still available. The public are welcome to make a reservation.
Professor Chen Lai is one of China's most influential contemporary philosophers and thinkers, currently the Director of the Tsinghua Academy of Chinese Learning and Professor of the Department of Philosophy, also a member of the Central Research Institute of Culture and History. Mentored by the masters in Chinese studies Zhang Dainian and Feng Youlan, Professor Chen is the first Doctor of Philosophy in China, specializing in history of Chinese philosophy, mainly on philosophy of Confucius, Neo-Confucianism in the Song, Yuan and Ming dynasties and modern Confucianism. Winner of numerous awards, his achievements are leading the world in the fields. He is one of the two selected winners around the world of the "Confucius Award" in 2016; winner of the "Global Chinese Ceremony Achievement Award for Chinese Studies" in 2014 and 2016; the "Zhang Shiying Aesthetics Philosophy Academic Award" in 2017, which is the highest honour in the field; and the "Huilin Prize for Culture" in 2018 for the international dissemination of Chinese culture. Recent books include Confucius and the Modern World, The Ontology of Anthroponomy and From the Ideological World to the Historical World, among others, with many of his works and papers having been translated into English, Russian, Japanese and Korean, etc.
In this lecture, Professor Chen will introduce the principles of benevolence, Confucius code of conduct, sense of responsibility and community standards that stand out as core values of Chinese culture, as well as the imagination and practice of a virtuous world, explaining that its values were not only widely accepted in East Asia's pre-modern era but are also complementary to today's Western contemporary values and have also real universal meaning to the establishment of a community related on an international level, of political cooperation and a world of harmony.
IC started to launch the "Lectures by Masters of Culture" programme in 2013, inviting world famous scholars, artists and individuals from cultural circles to host lectures and talks in Macao and, through the exchange of experiences and sharing of knowledge, stimulate thoughts with an international perspective and enrich Macao's culture, in order to inject creativity and vitality in the development of Macao's culture and arts.
The lecture will be conducted in Mandarin (Portuguese simultaneous interpretation available). Admission is free. For reservation, please register at the "Activity Registration System" on IC's website (www.icm.gov.mo/eform/event/) or contact us at 8399 6699 during office hours. The reservation will close at 5pm on 3 November (Saturday). For those who receive the confirmation message of reservation, please arrive 15 minutes in advance. For more information about this lecture, please visit http://www.icm.gov.mo/academics/Masters/2018/cn/.
View gallery