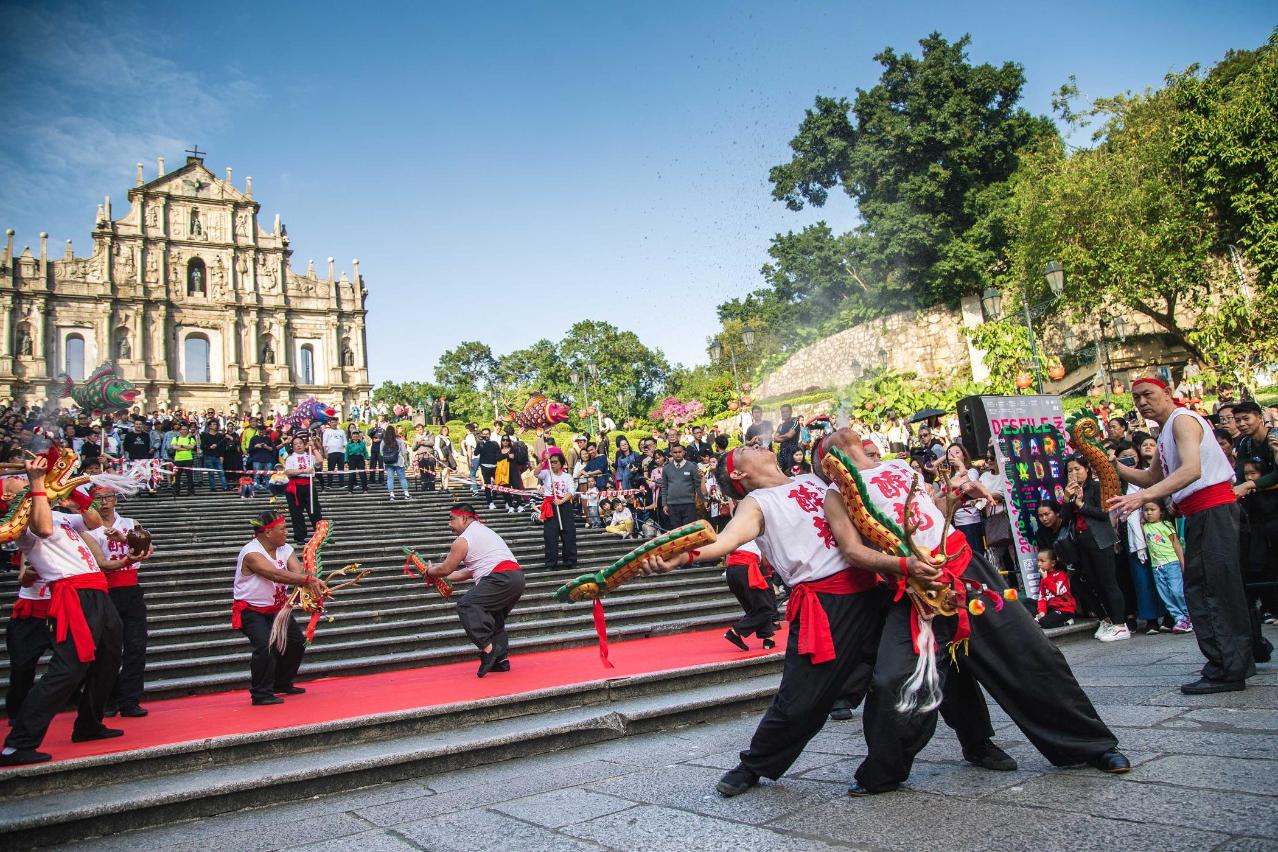 2018 Macao International Parade holds outreach performances in the community this week featuring performing groups from Portugal and Brazil
The "2018 Macao International Parade", organized by the Cultural Affairs Bureau (IC, from the Portuguese acronym), in celebration of the 19th anniversary of Macao's handover to China, will be held on 16 December. As the theme of this year's Parade highlights the cultural cooperation between China and Portuguese-speaking countries, a number of outreach performances features performing groups from Portuguese-speaking countries. On 8 and 9 December, performing groups from Portugal and Brazil will meet the audience and bring excellent performances to various local districts.
Following the enthusiastic performances by local performing groups in the "Art Promotion Mini Parade", very well received by the public last week, the Parade will continue to present several performances in the community this week. The environmental play "Take a Breath" by Artistic Intervention Projects (PIA) from Portugal and Macao students will be held on Saturday, 8 December, from 3pm to 4pm, in the Mount Fortress Garden; this physical theatre performance on stilts invites the public to reflect on the importance of environment to human life. On Sunday, 9 December, Lívia Mattos Circus Show from Brazil will present two performances suitable for adults and children: from 12pm to 1pm, the show "Sanfonástica" will be held from Feira do Carmo Taipa to Pak Tai Temple. In this show the artists will mount a mobile circus tent, leading the audience to the world of Brazilian music. From 4pm to 5pm, Lívia Mattos stages the show "Walking with Livia in Music" at the Ruins of St. Paul's, in which the performer will sing and ride an unicycle, spending a pleasant afternoon with residents and tourists. Livia Mattos is an accordionist, songwriter, singer and circus performer. Her performance features distinctive and charming features as she uses an accordion as the base and fuses circus elements with music. She has performed in numerous shows in North and South America, Africa and Europe, and has enthusiastically participated in community art and collaborated with other art performers. Her performances were highly acclaimed.
As an annual cultural event that gathers artistic talent and creativity in Macao, this year the Parade seeks to expand its scale and further extend its reach into the community. Over 20 outreach performances will be held to create a festive atmosphere in the community. Next week, more outreach performances and activities of the Parade will also be held in different places. For more information, please visit the Macao International Parade website at www.icm.gov.mo/macaoparade or the respective page on Facebook at www.facebook.com/macaoparade.
View gallery