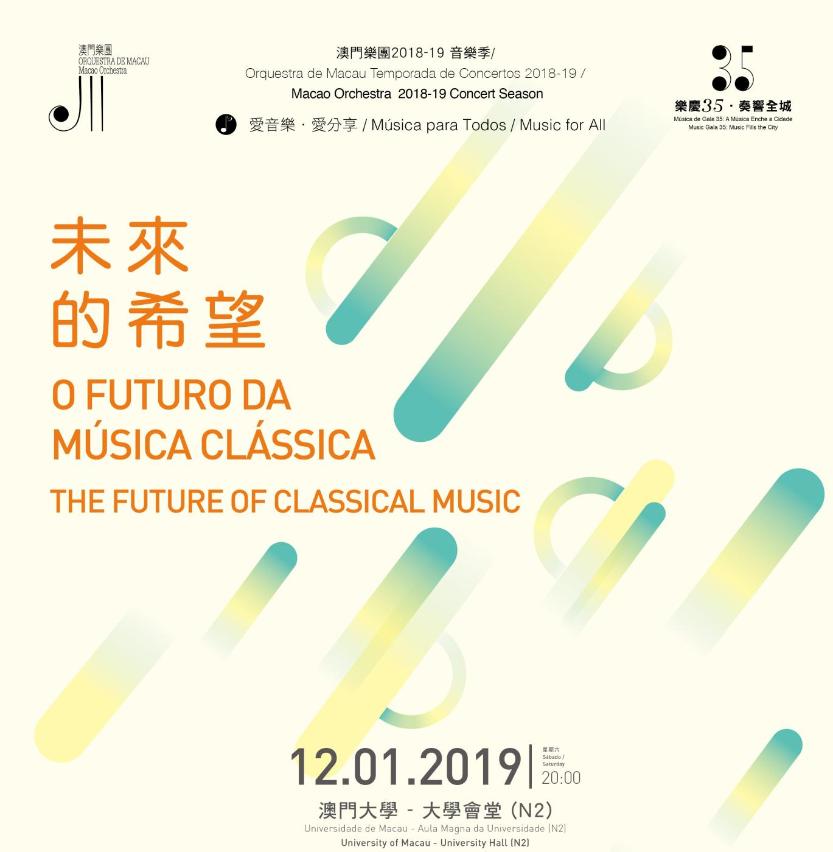 Macao Orchestra and local musicians present the concert "The Future of Classical Music"
The Macao Orchestra (OM, from the Portuguese acronym), under the auspices of the Cultural Affairs Bureau, under the baton of Orchestra's Assistant Conductor Francis Kan, will join hands with a number of local musicians and music students to present the concert "The Future of Classical Music" on Saturday, 12 January, at 8pm, at the University Hall of the University of Macau. Admission is free. All residents are welcome to attend.
With great emphasis attached on encouraging local young music talents, every year OM organises concerts and perform jointly with local music lovers and students, allowing them to showcase their talent. This year, OM will continue to collaborate with various local music entities, arranging young music students to rehearse together with professional music ensembles and providing individual guidance from the Orchestra's musicians, thereby allowing the students to interpret different music compositions on stage and showcasing the outstanding results of the music talents.
This concert features three masterpieces, including Overture to Poet and Peasant by Suppé, Caprice Bohémien by Rachmaninoff and Overture to 1812 by Tchaikovsky. Performing groups also include The University of Macau String Orchestra and The University of Macau Symphonic Band, The Student Philharmonic Orchestra of the Macao Conservatory, Macau Band Directors Association, Macau Strings Association, students of the Bachelor of Arts in Music course from Macao Polytechnic Institute and two local young music talents, Cheang Ka In and Iong Hou In.
Admission to the concert "The Future of Classical Music" is free. Interested parties can reserve tickets through tel. no. 2853 0782 during office hours or subscribe to the official WeChat account of Macao Orchestra for reservation. For programme enquiries, please visit OM's webpage at www.icm.gov.mo/om.
View gallery