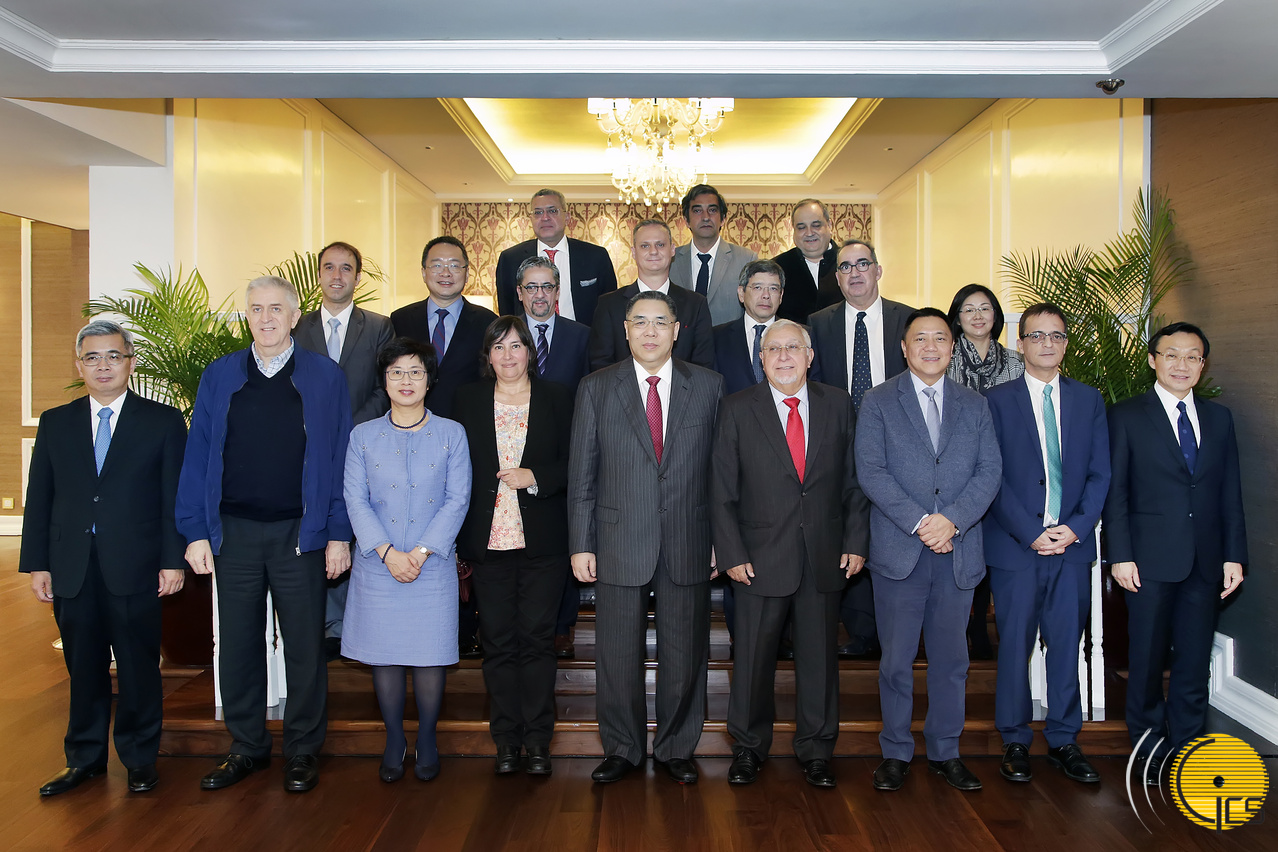 The Chief Executive, Mr Chui Sai On, poses for a group photograph with the reception attendees.
The Chief Executive, Mr Chui Sai On, today pledged the Government's full support to the local media in the exercise of the media's duties, in order to bolster that sector's roles in the communication between the Government and the public.
Speaking at a lunch he hosted for representatives of, respectively, Portuguese-language and English-language media, Mr Chui said the Government's support for enhancing the conditions under which the media were able to report on the Government's work would facilitate diversification in terms of what information was available to the public.
Local media that reported respectively in Portuguese and English were an element of Macao's multicultural environment, and therefore crucial in promoting further exchanges between Eastern and Western cultures, noted Mr Chui.
Mr Chui said the Government paid great attention to the media's opinions and suggestions regarding the Government's work tasks.
The Government respected the freedom of expression enjoyed by Macao's inhabitants, and strictly upheld the principles of the freedom of the press and the freedom to publish, he added.
In his speech, Mr Chui reviewed Macao's general economic development in 2018, saying the economy had remained stable, with sound public finances, a high employment rate locally, and improvement in terms of the overall well-being of Macao's people
He went on to say the year 2019 marked the 70th anniversary of the People's Republic of China and the 20th anniversary of the Macao Special Administrative Region; as well as being a year when a new person would be elected to the role of Chief Executive.
Mr Chui said the Government would strive to ensure activities to celebrate the first two events were held successfully and that there was a smooth election process and transition to the next administration. .
The Chief Executive had also hosted a lunch on Monday (14 January) for representatives of local Chinese-language media. He mentioned advances in technology had helped diversify the public's sources of information. He added the Government would always support the local media's work – including the organisation of training – helping to address the challenges created by new media technology.
View gallery