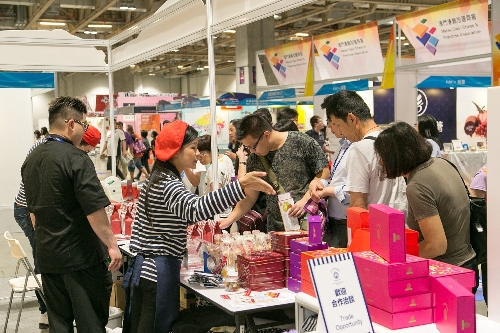 MFE serves as a platform that helps brands and enterprises seize fresh business opportunities
"Brand Expansion Continues - Business Opportunities to be Seized" – The Macao Franchise Expo 2017 (2017MFE) will be held from 28 to 30 July in Exhibition Hall 'A' of The Venetian Macao. The latest MFE has attracted – as have previous years – more than 100 international brands. This year's MFE, serving as an important platform to promote franchise and retail chain business co-operation, will offer multiple activities and services to participants, including forums, business matching opportunities and experience sharing sessions. These activities will give exhibitors and participants the chance to interact and exchange information. This year, the organisers have prepared a "Startup Launchpad" Day and will be launching a "Gourmet Avenue" to give visitors the opportunity to taste delicacies from Macao manufacturers.
The 2017MFE is jointly organised by: the Macao Trade and Investment Promotion Institute; the Macao International Brand Enterprise Commercial Association; the Macau Chain Stores and Franchise Association; the Brazilian Franchise Association; the Association of Chain and Franchise Promotion, Taiwan; and the Licensing & Franchising Association of Hong Kong.
International brands and enterprises can make full use of the advantages and opportunities available in Macao in order to expand their businesses into new markets. Macao's advantages include: its involvement in the implementation of the "Belt and Road" Initiative; the city's role in the plan to create a city cluster in the Guangdong-Hong Kong-Macao Greater Bay Area; and the strong support of the Central Government regarding Macao's development as a World Centre for Tourism and Leisure, and as a Commercial and Trade Co-operation Service Platform between China and Portuguese-speaking Countries.
More than 155exhibitors gather at MFE
This year is the ninth year that MFE has been held, a major annual event promoting international brand co-operation. The event attracts international brands and franchises, as well as professional visitors every year. The results have been outstanding, with the event expanding every year.
This year's MFE features a total exhibition area of 6,000 square metres, similar to that available last year. More than 155 exhibitors are expected to join 2017MFE, including ones from Mainland China, Brazil, Finland, Hong Kong, Japan, Macao, Malaysia, Mozambique, Portugal, , Singapore, South Korea, Taiwan, the United Kingdom and Vietnam, , . The event covers a variety of industries: fashion; clothing and apparel; food and beverage; retailing; education; leisure and entertainment; finance; brand agency work; and consulting services.
Each year, the organisers of MFE invite well-known entrepreneurs to the "Forum on Chain and Franchise Business Opportunities of International Brands" in order to share with other attendees their experiences. This year, the organisers have invited world-renowned entrepreneur and one of Macao's "Conference Ambassadors", Mr Li Ning, as a special guest, to share some of his business insights.
Proverbs around the world indicate food is always humanity's highest priority. As such, business opportunities abound in this sector. The organisers are launching this year a "Gourmet Avenue" to promote food and beverage products from Macao and to help the manufacturers of those delicacies to expand their business abroad. In addition, the Macao International Brand Enterprise Commercial Association will reprise its "Brand Repackaging Pavilion" at this year's MFE, providing consultancy services to those willing to start or expand a business via franchising. During the third day of the event, successful entrepreneurs have been invited to talk during the "Startup Launchpad" Day about their experiences of setting up a business, so that potential entrepreneurs can learn from them.
Free Wi-Fi Service
To enable 2017MFE exhibitors and visitors to communicate more effectively online, there will be free Wi-Fi service available during the three days of the event.
The 2017MFE will be held at the same time as the 2017 Guangdong & Macao Branded Products Fair, to create synergy between the two events and maximise the opportunities available to exhibiting and visiting enterprises. Entry to MFE is free: on the first day (28 July) the event is open only to trade visitors; on 29 and 30 July, the event is open to the public.
To encourage the use of public transportation and 'green commuting', the MFE organisers will provide free shuttle bus services to and from the venue. Public parking will be available, although space – at Exhibition Hall D and E – is limited and on a first come, first served basis. For more information about 2017MFE, please visit the official website www.mfe.mo or contact the organisers by either: on (853) 8294 6885; fax – (853) 8294 6701; or e-mail – sec@mfe.mo. WeChat users can subscribe to MFE's WeChat account via MFEMacau.
View gallery
---
Attachments