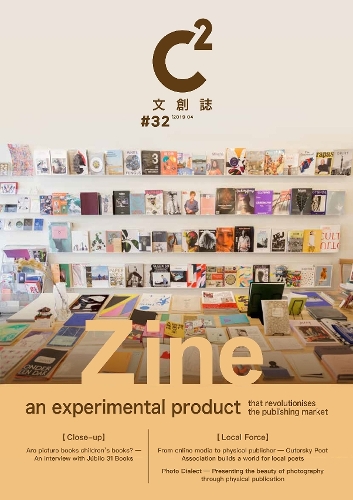 Thirty-second issue of C2 - cover
Published by the Cultural Affairs Bureau and produced by Like Entertainment & Production Co. Ltd., the thirty-second issue of C2 Magazine will be released tomorrow (3 April).
A zine is a type of independent publication that embraces creative freedom in content and form. In recent years, the zine has entered the physical publishing market with vigour and vitality. Despite not being produced and published on a large scale, zines have attracted many hipsterish readers with their unique book design. In the "Features" section, the founders of Something Moon Design (Macao), Pon Ding bookstore (Taiwan) and monthly zine Fong Fo (Mainland China) are invited to talk about their experiences of creating and publishing zines and share their opinions on the future development of the publications.
In the "Close-up" section, Lin Hsiang Chun, owner of the local independent bookstore Júbilo 31 Books, shares her experience of operating the independent bookstore. In the "Local Force" section, local minority publishing groups Macao Outersky Poet Association and Dialect talk about how to practise creativity and seek exposure and survival through book publication. In the "Blogs" section, seven columnists, namely Lo Che Ying, Tracy Choi, Lam Sio Man, Un Sio San, Ron Lam, Yap Seow Choong and Johnny Tam, continue to share their unique perspectives on the development of the cultural and creative industries.
C2is an online trilingual magazine (in Chinese, Portuguese and English) issued on the first Wednesday of the month of publication, every two months. The next issue will be launched on 5 June 2019. Readers are welcome to access or download the magazine at www.c2magazine.mo, or opt for the email subscription function: simply click the "subscribe" button on the right of the magazine's webpage and enter the email address to receive regular information about C2 Magazine. For latest updates, you may also visit the magazine's page on Facebook at www.facebook.com/c2magazine.macau, or stay tuned on WeChat by clicking "official accounts" and inputting "c2_magazine" in the ID field. For enquiries, please email to c2magazine.macau@gmail.com.
View gallery