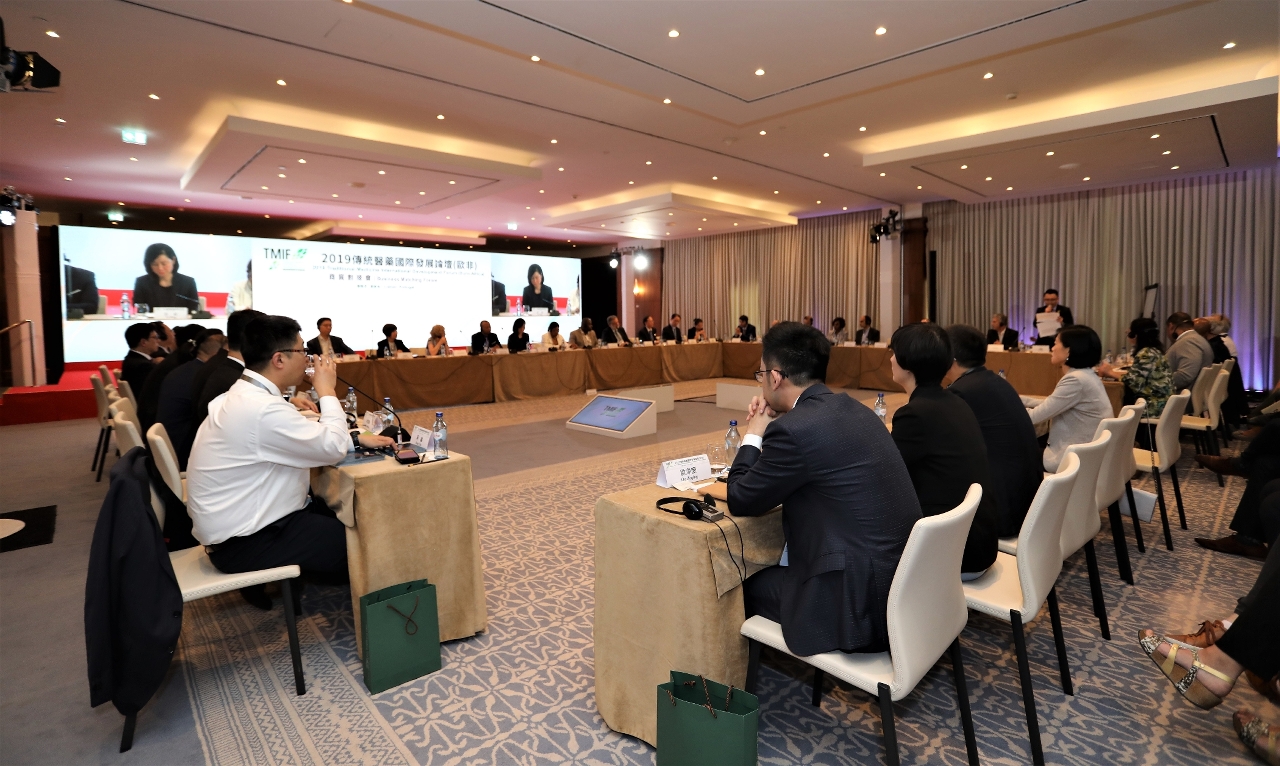 The Business Matching Forum was successfully held during the 2019 Traditional Medicine International Development Forum (Euro-Africa)
On the occasion of the "2019 Traditional Medicine International Development Forum (Euro-Africa)", a Business Matching session was held in Lisbon, Portugal in that afternoon. Present at the event were representatives from government departments, experts in traditional medicine, representatives from business and trade sectors, and distributors, totalling 120 participants, coming from Macao, Mainland China, the European Union, and African countries. At the event, the discussions were focused on the current situation, market features, cases of international trade and registration, and relevant regulations of Traditional Medicine, food supplements, and health products in European and African countries and regions.
At the Business Matching Forum, representatives exchanged ideas on the following three topics: 1. Interpretation of Registration Regulations and Market Access Conditions for Traditional Medicine and Food Supplements in European and African Countries. 2. Internationalization of Traditional Chinese Medicine Products, Health Products, and Food Supplements. 3. Current Situation and Future Development of Food Supplement Markets in the EU and African Countries. As for the current situation, market access conditions, and future development of Traditional Medicine in European and African countries, the representatives presented the market features, policy traits, and consumer habits in these countries, as well as market access conditions, common opinions, and suggestions regarding Traditional Chinese Medicine products in these regions. At the session on internationalization of Traditional Chinese Medicine products, health products, and food supplements, business representatives from Macao and Mainland China shared their experience in the successful international registration and trading of respective Traditional Medicine products, as well as the issues they encountered in terms of policy, marketing, pricing, cultural factors, and so on.
Furthermore, there was an interactive Q&A segment with the speakers with respect to the registration, trading, and standardization of Traditional Medicine products, The guest speakers have offered valuable advice according to the situations in different markets, having the Q&A segment conducted in a very active and vibrant atmosphere.
In addition, exhibit areas for high-quality products from Macao, Mainland China, Europe, Africa, and bordering nations and regions along the 'Belt and Road' were established at the Business Matching Forum. These product exhibitions offered a precious opportunity to establish business links between entrepreneurs and distributors, as well as to share experience on the promotion of products, training of practitioners, registration services, finding partnerships for international trade, among others. These exhibitions enabled the participants to gain a better understanding of the conditions of potential markets in order to be better prepared for their product promotion and registration.
Currently, the GMTCM Park has assisted 6 products, including those produced by Macao and Mainland China's enterprises, to be successfully registered and licensed in Mozambique. The 2 products that were successfully registered in the first round, and whose brands hold a good reputation, are already being sold in Mozambique, which demonstrates the proactive role of the GMTCM Park as a platform for industrialization and internationalization of the Traditional Chinese Medicine industry.
View gallery