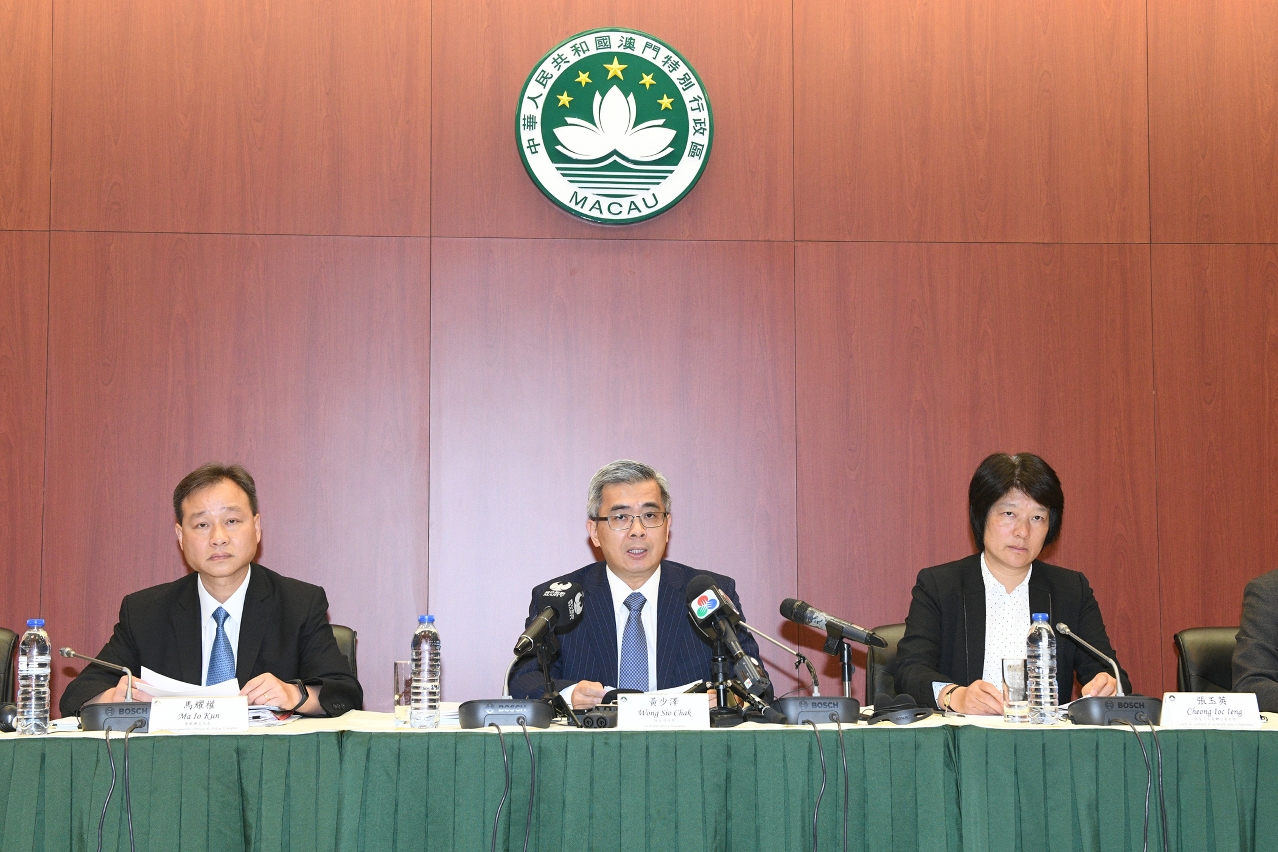 Enforcement statistics show Macao is safe city, says Security Secretary
Police statistics relating to law enforcement for the first quarter of 2019 showed Macao to be a secure and safe city, said today the Secretary for Security, Mr Wong Sio Chak.
Speaking at a press conference on first-quarter crime statistics and police enforcement statistics, Mr Wong stated Macao's citywide electronic surveillance system and a cooperation mechanism with mainland police authorities were playing a cornerstone role in investigation of criminal matters, especially those involving cross-boundary elements.
The number of suspected crime cases reported in Macao up to the end of March 2019 saw a 5.2-percent decrease from the corresponding quarter last year, to 3,364 cases.
Instances of the most serious forms of crime – kidnap, murder and grievous assault – continued to be either non-existent, or extremely rare, said Mr Wong.
The number of violent crimes reported in the period increased by 8.3 percent year-on-year, to 157 instances. The Secretary said the increase in reports of violent crime was due to a strengthened enforcement effort. It included a case involving more than 71 suspects detained in a single operation on 23 February.
Regarding the reported number of scams, there was 283 cases in the first three months of 2019, representing a rise of 22.5 percent from the same period last year.
Gaming-related crimes saw a year-on-year increase, fuelled by suspected cases of loan sharking and false imprisonment.
According to the Secretary, the security authorities had not found intelligence that the city's gaming industry had had any negative influence on community security, nor could any irregularity be linked to organised crime activities.
Mr Wong also mentioned police efforts and strategies for tackling gaming-related fraud cases, and other forms of crime that might endanger safety in the community.
The police had set up a coordination centre in relation to casino security, and it operated 24-hours per day. The centre was responsible for coordinating investigative officers and four patrol teams deployed across the city's casino sector to carry out on-the-spot inspections and follow-up on freshly-occurring cases. In October 2018, the police had formed a special patrol team – in operation 24 hours per day – for the specific task of crime prevention in casinos and in the vicinity of hotels.
Since 1 February, the Public Security Police Force had equipped all patrol officers with pepper spray, in order to provide officers with an additional method of controlling suspects if necessary, Mr Wong said.
With effect from the second quarter, a greater number of front-line police officers was being supplied with body-worn video cameras, in order to provide potential material for police investigations and evidence for possible use in a judicial process.
View gallery