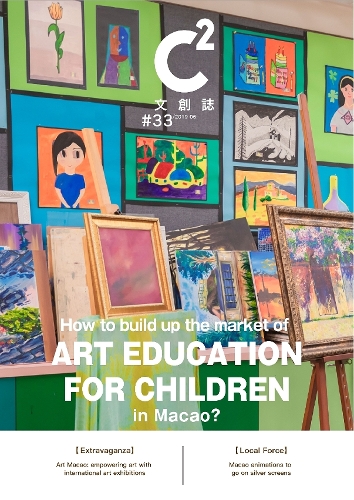 The 33rd issue of C2
Published by the Cultural Affairs Bureau and produced by Like Entertainment & Production Co. Ltd., the thirty-third issue of C2 Magazine will be released this Wednesday (5 June).
Macao parents are paying increasingly more attention to their children's artistic education. Many schools and educational institutions have been incorporating artistic elements and opening art courses in order to integrate art into children's lives. In the "Feature" section, Premier School Affiliated to Hou Kong Middle School, dance studio TDSM Kid Dance and experienced art educator Bonnie Leong are invited to share their experience and express their views on the development of art education for children in Macao.
The first edition of "Art Macao" will open soon, in which several resorts and hotel enterprises are specially invited to participate in the mega event's highlight "Art Macao: International Art Exhibition", bringing together ancient and contemporary works of art by Chinese and foreign artists and an array of dazzling timeless classics. In the "Extravaganza" section, four of the participating gaming operators, including Melco Resorts & Entertainment Limited, MGM, Sands China Ltd. and Wynn Macau Limited, introduce the features and highlights of their exhibitions.
Five Macao animation short films subsidised by the "2016 Subsidy Programme for the Production of Original Animation Short Films" of the Cultural Affairs Bureau have been completed, screened and promoted in recent months. In the "Local Force" section, Jay Lei and Zue Ku, two animators who received the grants, talk about their creative experiences. In addition, Hong Kong animation director Toe Yuen, a member of the jury of the Subsidy Programme, also appears in the section to give his insight on Macao's animation short films. In the "Blogs" section, seven columnists, namely Lo Che Ying, Tracy Choi, Lam Sio Man, Un Sio San, Ron Lam, Yap Seow Choong and Johnny Tam, continue to share their unique perspectives on the development of the cultural and creative industries.
C2 is an online trilingual magazine (in Chinese, Portuguese and English) issued on the first Wednesday of the month of publication, every two months. The next issue will be launched on 7 August 2019. Readers are welcome to browse or download the magazine at www.c2magazine.mo, or opt for the email subscription function: simply click the "subscribe" button on the right of the magazine's webpage and enter the email address to receive regular information about C2 Magazine. For latest updates, you may also visit the magazine's page on Facebook at www.facebook.com/c2magazine.macau, or stay tuned on WeChat, by clicking "official accounts" and inputting "c2_magazine" in the ID field. For enquiries, please email to c2magazine.macau@gmail.com.
View gallery