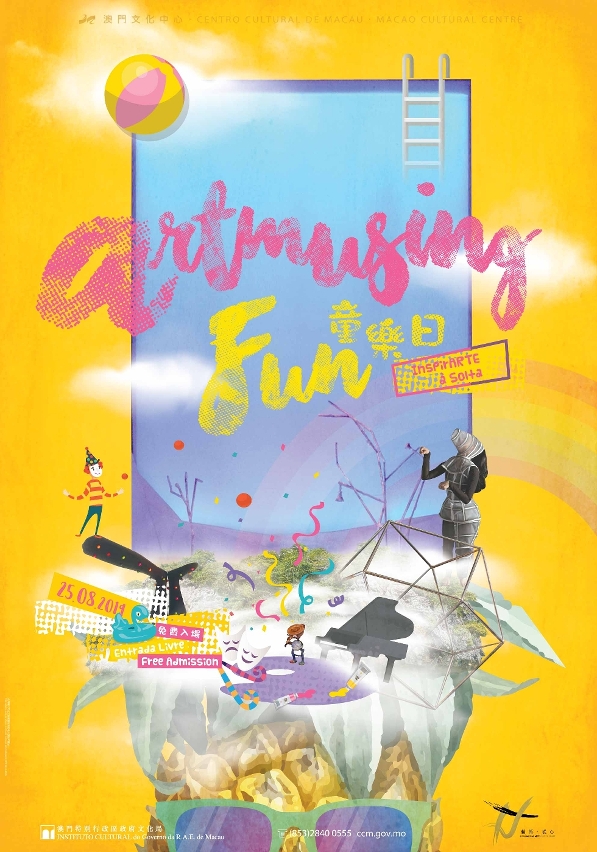 ARTmusing Summer at CCM An inspiring breeze for the whole family
The Macao Cultural Centre, under the auspices of the Cultural Affairs Bureau, is launching a new edition of "ARTmusing Summer", bringing a pack of performances and artistic activities running from July through August. This year's edition was specially conceived having very young children in mind, without forgetting the rest of the family.
Kids on call
Little Max (Spain) 25-28.07.2019
This year's action quicks off with Little Max, a puppet and object theatre for toddlers and small children that pays homage to those who are persistently viewed as different. The play explores kids' natural gift for creating imaginary worlds and new made up friends. Brought by children's theatre company Arena en los Bolsillos (or Sand in the Pockets, in English) this poetic production tells the story of a little girl born slightly different from everybody else, having a flipper for a foot. Isolated, seeking to be happy away from everyone's gaze, one day,Max's world will change with the sudden appearance of a stranger. A little bird will offer her a fresh start, a chance to break free from solitude.
Flights (Spain) 24-25.08.2019
Flights is a contemporary dance show devised to spark the senses of young children and their families, inspired by the legacy of Leonardo da Vinci.Exploring the concept of flight, the piece challenges the audience to wonder at the human quest to conquer the skies, delving into da Vinci's universe. Emotionally driven, bewitching, comic and inventive, this adventure is inspired on the master's drawings, paintings and sculptures expressing the dream of reaching the supposedly impossible.This production brings back Spanish company Aracalandanza, five years after their debut in Macao with Constellations, a show conceived after the imagery of Joan Miró. Based in Madrid for over 20 years, the multi-awarded company has been sharing its universe with a variety of international audiences.
ARTmusing Fun25.08.2019
For yet another great season finale, families are welcome to a big celebration. Kids and parents are invited to stroll around in a land of creative activities and games, specially planned to inspire and entertain everyone. From blasting workshops to lively performances, the ARTmusing Fun provides a day of artistic dare and bonding in a fun-filled family journey through the arts, sharing some of life's great moments.
Tickets for all "ARTmusing Summer" programmes will be available from June 9 (Sunday) at CCM's box office and Macao Ticketing Network outlets available at various discounts. For details please visit CCM's website at www.ccm.gov.mo or call (853) 2840 055.
View gallery