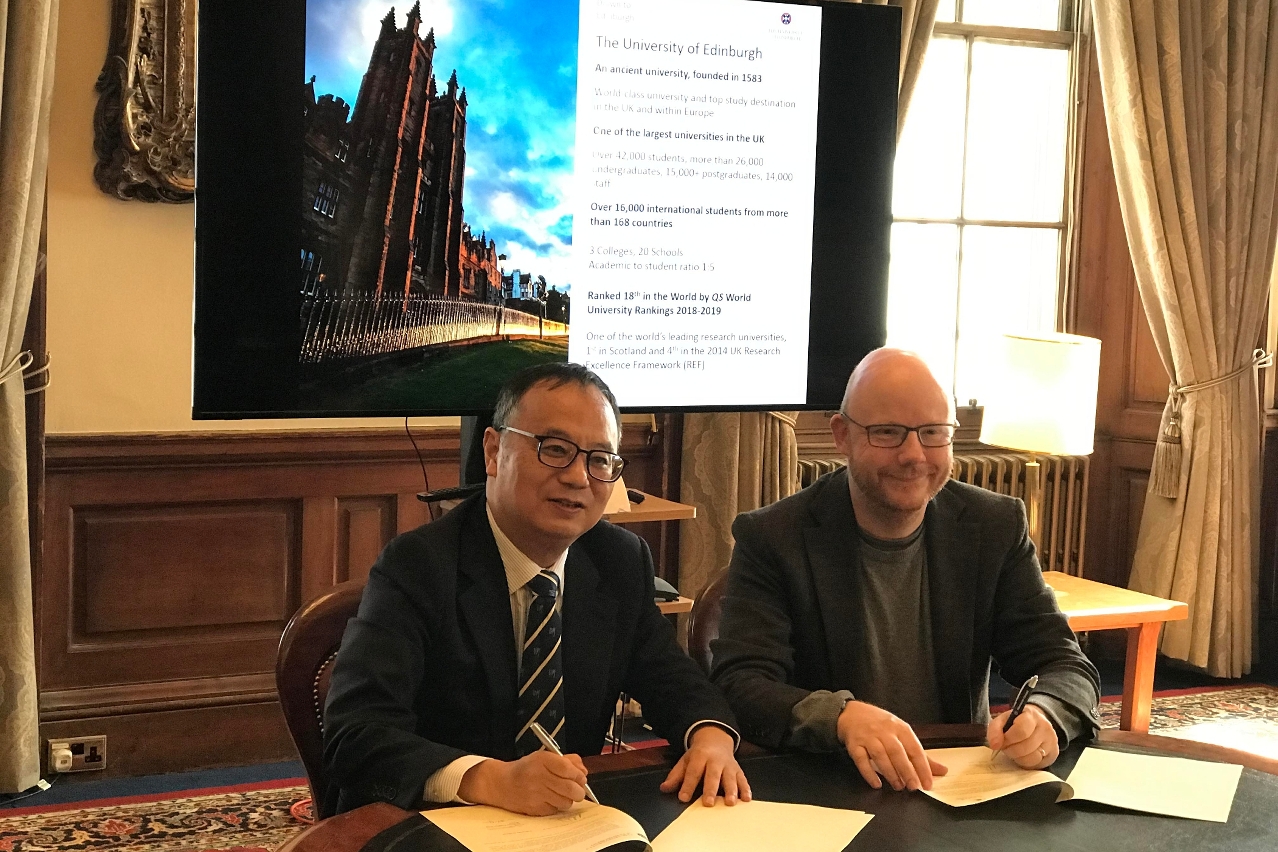 UM and the University of Edinburgh sign an MOU on collaboration
A delegation from the University of Macau (UM), led by UM Rector Prof Yonghua Song, visited six top-notch higher education institutions in the United Kingdom, in an effort to forge academic and research collaborations with universities in the UK, and exchange experience in higher education development. According to Prof Song, UM has a long tradition of academic collaboration with British universities. This strategic visit and the implementation of the collaboration will further enhance UM's ties and cooperation with British universities. They are also in line with UM's mission of internationalisation and contribute to UM's role as a major platform for international higher education collaboration in the west of the Greater Bay Area.
During the visit, UM signed a memorandum of understanding on academic and research collaboration with the University of Edinburgh and the University of Bristol. The MoU established a framework for UM to launch a 1+3 PhD programme. Outstanding, selected PhD students from UM will have the opportunity to undertake a one-year master's degree programme at one of these two universities. After completing the programme, the student will obtain a master's degree from the UK university and then return to UM to complete their PhD degree. The University of Edinburgh and the University of Bristol are ranked No 29 and No 78, respectively, in the Times Higher Education World University Rankings. Both universities are known for their excellence in various areas: the University of Edinburgh is known for its disciplines in linguistics, medicine, and engineering, while the University of Bristol's programmes in social sciences and environmental engineering are among the best in the world.
UM has previously signed agreements with Imperial College London and the University of Bath. During the visit to Imperial College London, Rector Song met with its president, and had an in-depth discussion on UM's 1+3 PhD programme, postdoctoral exchange, and research collaboration between their faculty members. A round-table meeting was held with representatives of the University of Bath, including the deans of various faculties. Participants had a fruitful discussion, with both parties agreeing to identify areas of common interest for further academic exchange and research cooperation. In addition, UM has shared and discussed several initiatives with the Queen Mary University of London and the University of Surrey, aiming to explore and promote potential partnerships with these two universities.
Rector Song also attended the Times Higher Education Young Universities Summit 2019, which was jointly held by the University of Surrey and the University of Wollongong, and delivered a speech at the meeting. The topic of this year's summit is 'responding to change, building resilience - the institutional perspective'. Prof Song pointed out that the Outline of the Strategies for the Development of the Guangdong-Hong Kong-Macao Greater Bay Area, released in February this year, is a key strategic plan in China's development blueprint. As a leading comprehensive university on the west bank of the Pearl River, with distinctive regional characteristics, UM will serve as a centre for technological innovation and talent development and is committed to developing into a global university in Macao that is integrated into the Greater Bay Area and geared towards China and beyond.
Members of the delegation included UM Rector Prof Yonghua Song, Vice Rector (Research) Prof Ge Wei, Faculty of Business Administration Dean Prof Jean Chen, Faculty of Science and Technology Dean Prof Xu Chengzhong, Institute of Applied Physics and Materials Engineering Director Prof Tang Zikang, Honours College Dean Prof Rose Lai, Registrar Prof Kelvin Yuen, and Global Affairs Office Director Ms Cindy Lam.
View gallery