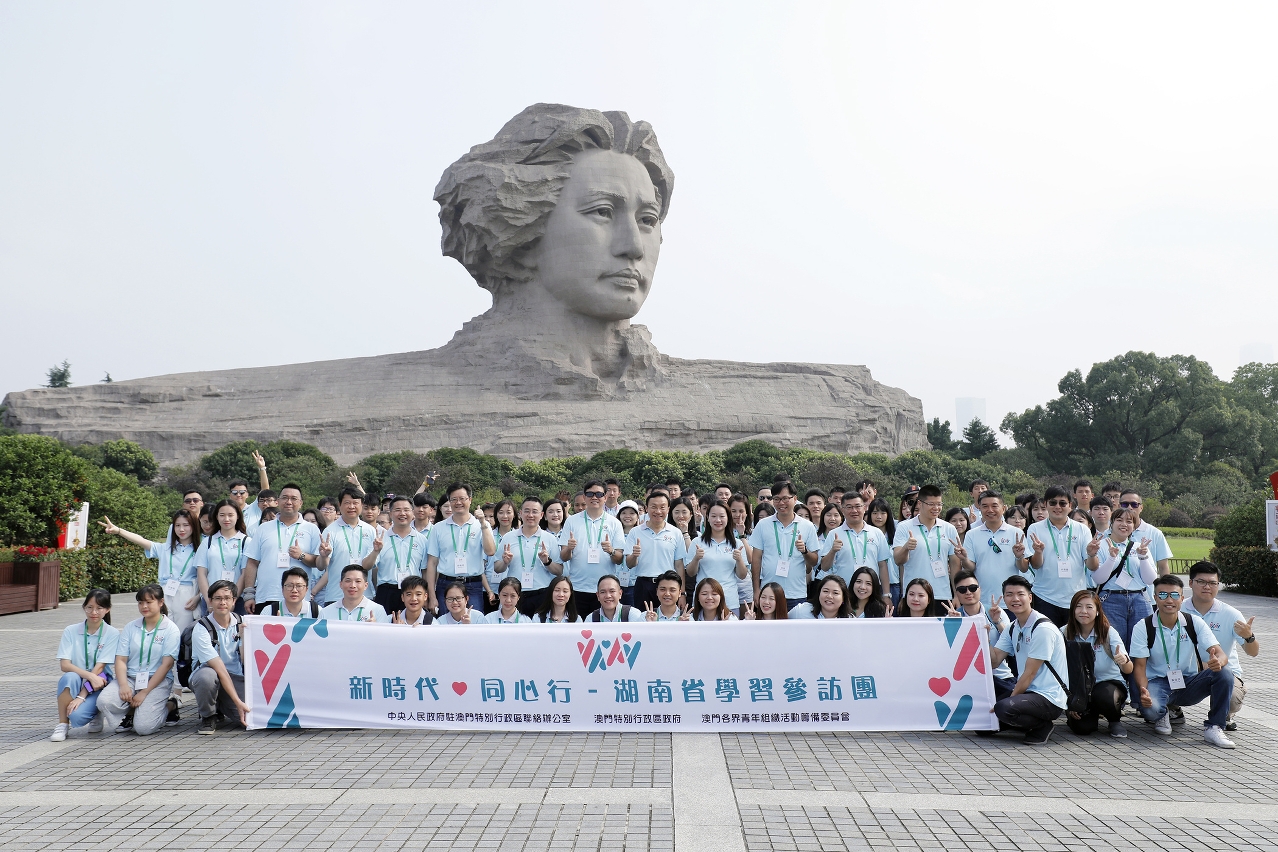 The youth delegation to Hunan Province visits Orange Isle and a youth sculpture of Mao Zedong in Changsha Municipality.
The four-day visit to Hunan Province by a group of young Macao people helped them to understand better the nation's development in a number of areas, including in the fields of science and technology. Such achievements were a source of inspiration for them to contribute further to Macao's development strategy.
The Secretary for Social Affairs and Culture, Mr Tam Chon Weng, made the remarks on Sunday (21 July) while in Hunan. He led a delegation of 100 young Macao people to Hunan from 18 to 21 July. The group visited several cities including Changsha, Shaoshan, and Zhuzhou.
In his remarks to reporters, Mr Tam advised Macao young people to keep learning and improving their skills, in order to seize fresh opportunities that become available via the country's advancement in a new era.
The visit to Hunan was not only to promote patriotic education, but also to deepen cultural ties and knowledge about the nation's development. Members of the delegation said the visit provided them with a great number of insights, Mr Tam added.
During the four-day visit, Mr Tam said he had noticed that Macao young people were innovative, courteous and refined in manner. They were the future of Macao and would play an important role in ensuring that Macao would have bright prospects, he added.
The Hunan visit was part of a programme of five tours to mainland provinces that are jointly organised by: the Macao Special Administrative Region (SAR) Government; the Liaison Office of the Central People's Government in the Macao SAR; and a body formed by Macao youth associations.
The whole programme involves a total of 500 young people. They are accompanied on their respective trips by senior officials of the Macao SAR Government, and officials of the Liaison Office of the Central People's Government in the Macao SAR. Each delegation is visiting a single province on the mainland, namely either Hebei, Guizhou, Jiangsu, Guangdong or Hunan, on various dates between 14 and 25 July.
The visits are part of the celebrations for this year's 'two anniversaries' and are designed to assist Macao's young people to grasp – in a comprehensive and intensive way – the latest aspects of national development.
The two anniversaries are the 70th anniversary of the founding of the People's Republic of China, and the 20th anniversary of the establishment of the Macao SAR.
View gallery