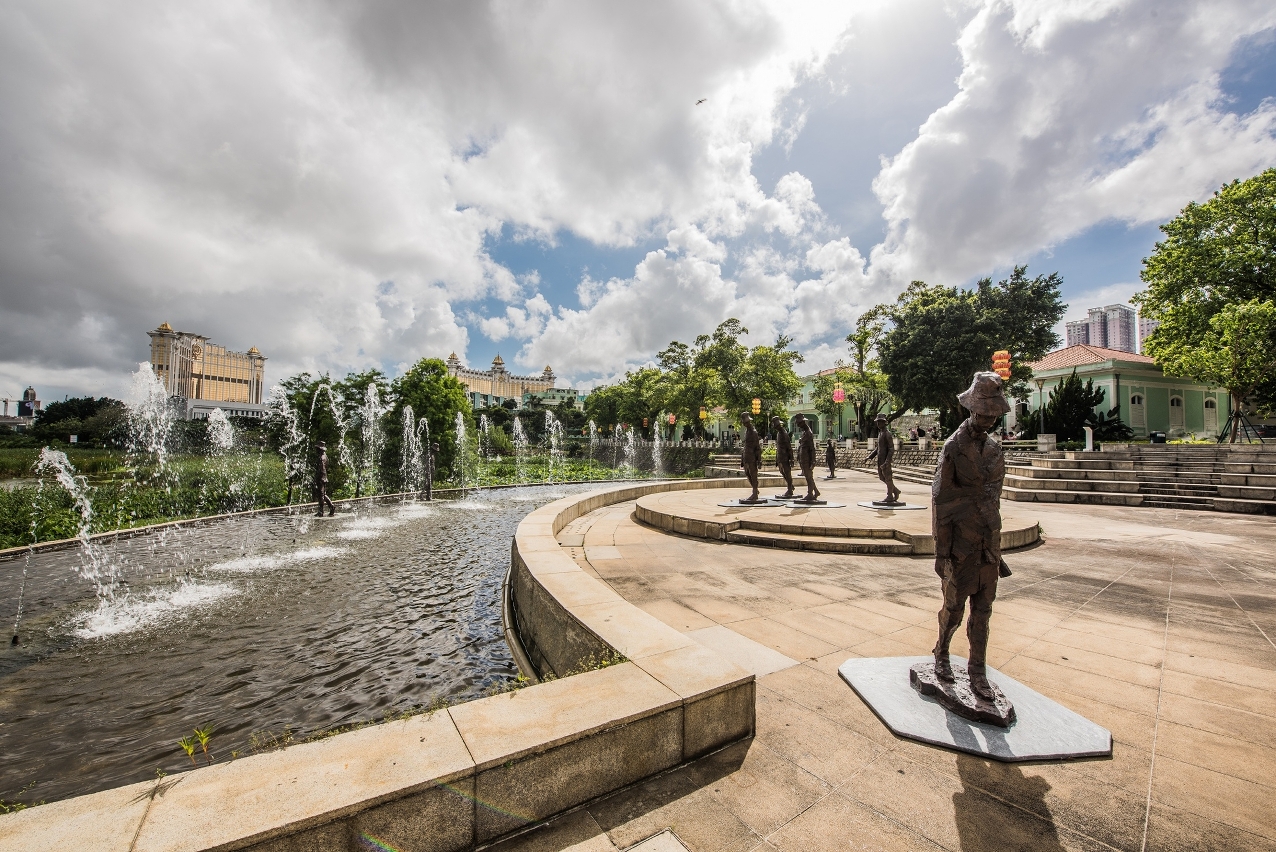 "The Wanderer", designed by local artist Wong Ka Long
This summer, "Art Macao", a six-month mega event, brings an immersive cultural atmosphere to the entire city as an art gallery and art garden. Diversified art exhibitions and large-scale outdoor installations are displayed at various locations, breaking through the limitations of space and allowing art lovers to feel the artistic ambience of Macao in this hot summer.
Supported by Galaxy Entertainment Group and designed by local artist Wong Ka Long, "The Wanderer" features 24 two-meter-high sculptures of Portuguese poet and writer Fernando Pessoa, at the Taipa Houses. The statues in different identities highlight the unique message of the poet and his philosophical thinking. The Consulate General of Italy in Hong Kong presents the exhibition "Colours of Asia" by Italian artist Francesco Lietti at the Taipa Houses. With a childlike perspective and sense of humour, Lietti depicts Macao and other Asian cities as a combination of reality and magical space, presenting a different perception of the cities through art. The exhibition is open until 22 September.
Supported by Melco Resorts & Entertainment Limited, organized by the Consulate General of Belgium in Hong Kong and designed by art group Benoit+Bo, "Happy Heads" represents the transformation of a traditional Chinese doll into an animated contemporary artwork with infinite creativity, welcoming visitors at the leisure area in Praça de Jorge Álvares; the exhibition "Prosperous Years", also by Benoit+Bo, is held at the Old Court Building. The multilingual "Happy Heads" reinterprets the form of "gatekeeper" in Chinese culture with digital technology, presenting the borderless vision of artists. The exhibition is open until 15 September. In addition, the "Japanese Culture and Performing Arts Poster Exhibit" organized by the Consulate General of Japan in Hong Kong, showcases the diversity of Japanese art with a variety of traditional and modern fine arts and crafts. The exhibition is open until 22 September.
The main exhibition "Art Macao: International Art Exhibition" at the Macao Museum of Art brings together exquisite exhibits. Exhibitions held in hotels and integrated resorts are equally rich and colourful: "GRACE KELLY: From Hollywood to Monaco – Artists' Tributes", organized by the Galaxy Entertainment Group, traces the legendary story of Oscar-winning actress Grace Kelly who became Princess of Monaco, and showcases how artists were inspired to create their works with her as their muse in conjunction over 100 exhibits from the collection of the Prince of Monaco's Palace. The exhibition "Unexpected Encounters", organized by Melco Resorts & Entertainment Limited, features a number of masterpieces by renowned artists from the impressive art collection owned by City of Dreams, including "Good Intentions" by KAWS and "Fat Convertible" by Erwin Wurm, demonstrating how contemporary art abandoned traditional forms of artistic expression and techniques, then gradually transformed and liberated itself thereby evolving into something new.
Admission of most activities of "Art Macao" is free. For more information, please visit the respective webpage at www.artmacao.mo, the application "Art Macao", the official Instagram account "artmacao", "IC Art" page on Facebook and WeChat account "ICmacao".
View gallery