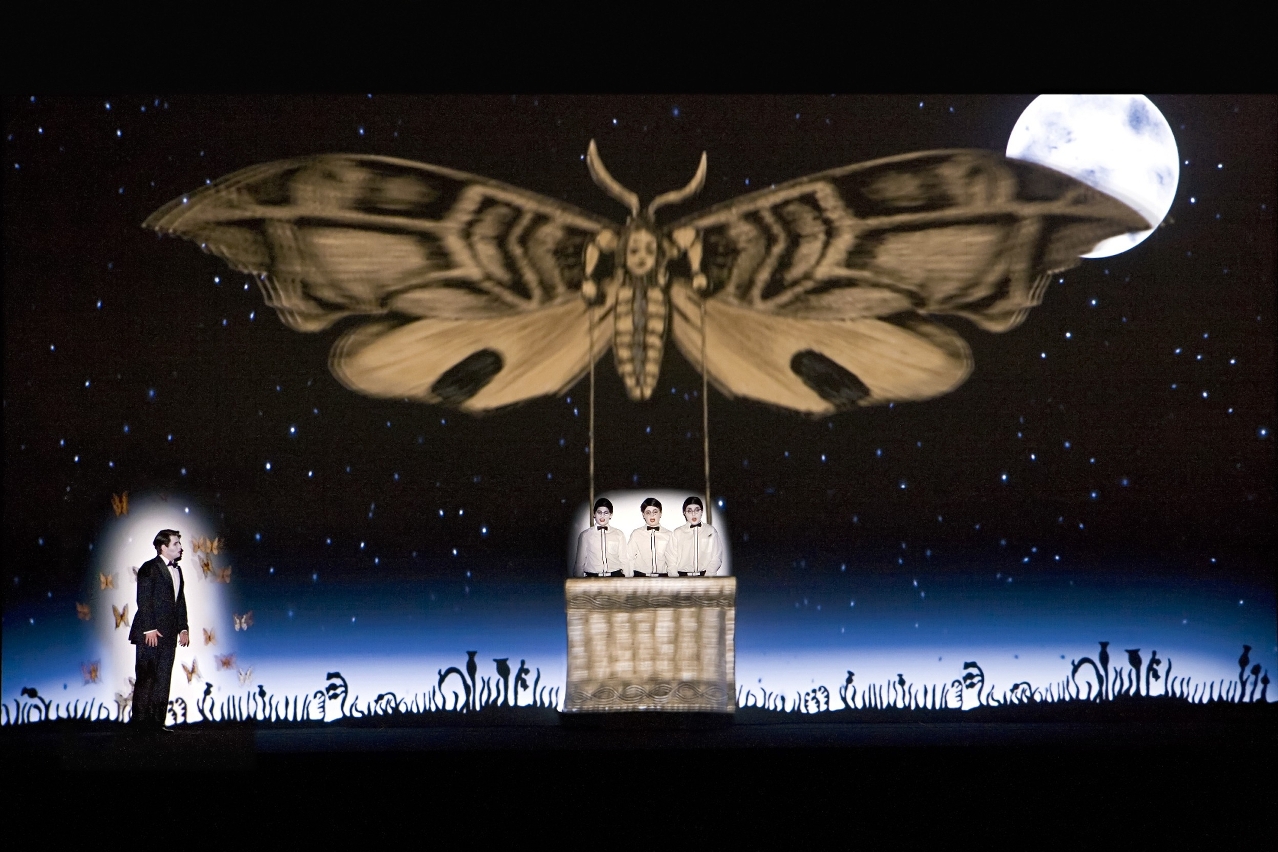 The Magic Flute(Photo Credit:Iko Freese_drama-berlin.de〉
The 33rd Macao International Music Festival (MIMF), organised by the Cultural Affairs Bureau, will be held from 4 to 30 October, featuring 17 programmes in a total of 22 excellent performances. Tickets will be available through Macau Ticketing Network outlets from 10 a.m. on 4 August, Sunday. For the convenience of the public, queuing vouchers will be distributed from 9 a.m., while telephone and online bookings are available from 12 p.m. on the same day. All are welcome to join.
This year's MIMF, themed 'The Instrumentalist', promises to bring the public a musical feast with grandeur, bounding spirit and rhythmic melodies, thereby appreciating the beauty music brings to us. This year the MIMF will kick off with The Magic Flute, a two-act opera composed by the classical music virtuoso, Mozart. The opera, filled with unbounded creativity beyond all imagination, makes a breakthrough in traditional operatic performance, which will surely be a fantastic feast for the eyes and ears. During the closing tribute, the Macao Orchestra, the China NCPA Orchestra and Chorus will jointly present a majestic programme, including the classic Song of the Seven Sons and Xian Xinghai's signature piece The Yellow River Cantata,to express the strong sentiments towards Macao and its motherland, China. In the concert When the East Meets the West in Music, the Macao Chinese Orchestra will join hands with renowned Chinese tenor Xue Haoyin, to perform the aria Nessun Dorma from the famous Italian opera Turandot and the Chinese song Pursuit.The ensemble Sejong Soloists from South Korea will present two concerts Encounter Four Seasons and Serenade for Strings. In the first concert, the ensemble, together with Bulgarian violinist Svetlin Roussev and Korean pianist Yeol Eum Son, will deliver Mendelssohn's Double Concerto in D Minor, while the second concert will see the ensemble and Macao's violin prodigy Sophia Su perform Haydn's Violin Concerto No.1 in C Major. In the concert Bravo Macao!, two young local music stars Choi Hio Lam (guzheng and erhu) and Fang Teng (erhu) will showcase their outstanding musical talents. More top-notch musicians and orchestras from around the world will take the stage one after the other in the MIMF this fall.
Various discounts are on offer at this year's MIMF. An early bird discount of 30%, subject to certain conditions, will be offered from 4 to the 11 August, and a 20% discount from 12 August onwards. A 'Discount Duo in celebration of Macao's Handover' will also be launched this year. Holders of valid Macao Resident Identity Cards can enjoy a 30% discount in one ticket for the concert The Vienna Philharmonic. A 50% discount will be offered for purchasing two or more ticket for the same concert. Holders of BOC Credit Cards or BOC Cards can enjoy a 30% discount on tickets for selected programmes including the opening performance The Magic Flute and the closing tribute The Yellow River Cantata. Holders of credit cards issued by specific banks will be entitled a 20% discount. Holders of 'OM Friends', 'CCM Friends' or 'Friends of the Macao Chinese Orchestra' cards can enjoy a 25% discount during the early bird discount period, and a 20% discount from 12 August onwards. A 50% discount will be offered to holders of Macao Senior Citizen Cards or Disability Assessment Registration Cards. Air Macau customers can enjoy a 20% discount on ticket purchases at any Macau Ticketing Network outlets by presenting their respective boarding pass (flight code NX) within 7 days upon their arrival in Macao. For each ticket purchase over MOP1,000 (net price after discount), purchasers will receive a 'buy 1 get 1 free' voucher for Cotai Water Jet ferry tickets. For each ticket purchase over MOP500, purchasers will receive one 20% off F&B coupon which can be redeemed when dining at selected restaurants in Sands Resorts Macao.
For more information, please visit the MIMF website at www.icm.gov.mo/fimm and Facebook page (by searching 'Macao International Music Festival'). 24-hour ticketing hotlines: (Macao) 2855 5555; (Hong Kong) 2380 5083; (Mainland China) 139 2691 1111. Ticketing website: www.macauticket.com.
View gallery