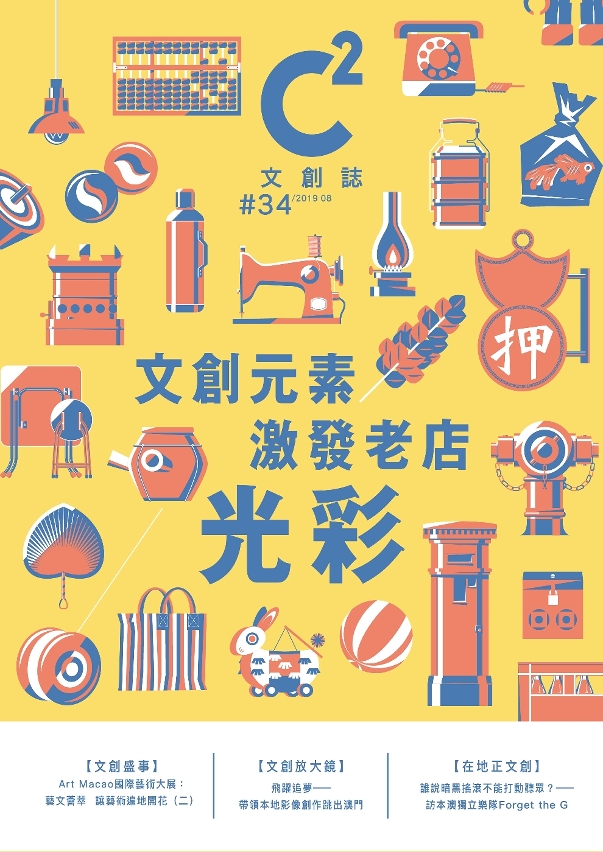 Thirty-fourth issue of C2 discusses the upgrading and transformation of old stores through cultural and creative elements
Published by the Cultural Affairs Bureau and produced by Like Entertainment & Production Co. Ltd., the thirty-fourth issue of C2 Magazine will be released this Wednesday (7 August).
In Macao, there are many classic stores with decades of history. In order to survive, these stores are willing to change through the introduction of cultural and creative elements which have brought them new opportunities for business development. In the "Feature" section, two classic stores in Macao, U Bo Wo Chinese Herbal Tea and Veng Heng Cheong Joss-stick Shop, as well as Taiwanese classic store Yao de Herb, are invited to share their experience on unlocking the brand value and rejuvenating the stores with cultural and creative elements.
Forget the G is one of the beneficiaries of the first "Subsidy Programme for the Production of Original Song Albums" launched by the Cultural Affairs Bureau, and the band members share their 15 years of experiences in the "Local Force" section. Free Dream Production Studio, a local video production company, is composed of a group of young people with filmmaking dreams. Their short films have recently gone viral on the Internet and, in the "Close-up" section, three main founders of the Studio talk about their dreams. In the "Extravaganza" section, we have again invited two exhibitors of the "Art Macao: International Art Exhibition", namely the Galaxy Entertainment Group and the Sociedade de Jogos de Macau, S.A. (SJM), to introduce the features and highlights of their exhibitions. In the "Blogs" section, seven columnists Lo Che Ying, Tracy Choi, Lam Sio Man, Un Sio San, Ron Lam, Yap Seow Choong and Johnny Tam continue to share their unique perspectives on the development of the cultural and creative industries.
C2 is an online trilingual magazine (in Chinese, Portuguese and English) issued on the first Wednesday of the month of publication, every two months. The next issue will be launched on 2 October 2019. Readers are welcome to browse or download the magazine at www.c2magazine.mo, or opt for email subscription function: simply click the "subscribe" button on the right of the magazine's webpage and enter the email address to receive regular information about C2 Magazine. For the latest updates, you may also visit the magazine's page on Facebook at www.facebook.com/c2magazine.macau, or stay tuned on WeChat by clicking "official accounts" and inputting "c2_magazine" in the ID field. For enquiries, please email to c2magazine.macau@gmail.com.
View gallery