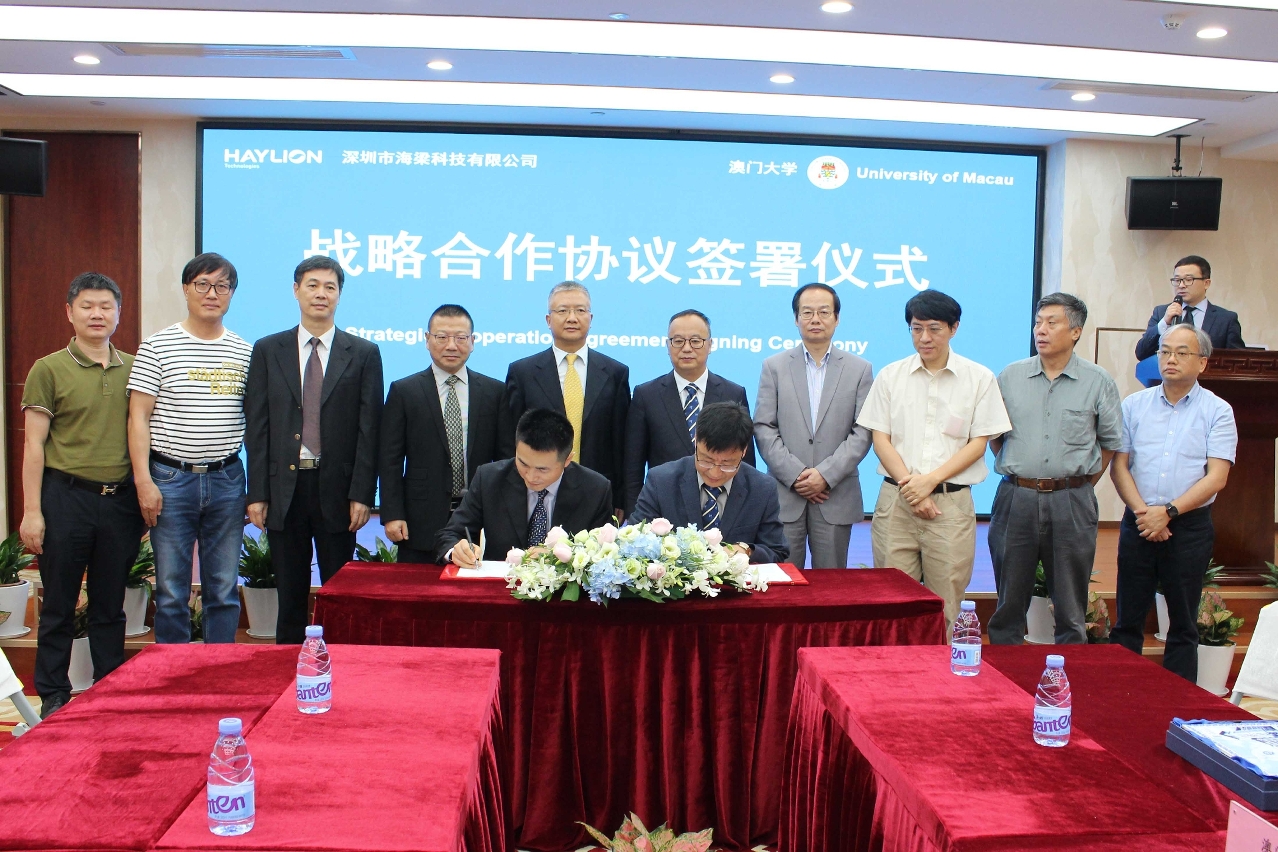 UM signs a collaboration agreement with a leading mainland company in smart driving technology
The University of Macau (UM) State Key Lab in the Internet of Things for Smart City recently signed a collaboration agreement with Haylion Technologies Co Limited, becoming the first institute in Hong Kong and Macao to collaborate with a leading mainland company in smart driving technology. By signing the agreement, both parties hope to combine their strengths in big data applications for smart city development, smart transport, and unmanned buses, as well as to strengthen exchange and collaboration between researchers from both sides, in order to jointly promote innovation, develop patented technologies, and commercialise research results, with the aim of enhancing the global competiveness of the Guangdong-Hong Kong-Macao Greater Bay Area in the field of science and technology.
The agreement was signed by Xu Chengzhong, dean of UM's Faculty of Science and Technology, and Wei Bin, vice president of Haylion Technologies Co Limited in Shenzhen. Under the agreement, both parties will work together to develop new technologies and train professionals in Internet of Things applications for smart cities and new smart transport technologies. Using their current equipment, including unmanned buses and the production lines, both parties will enhance collaboration in the development of various technologies, including smart driving coordination systems, comprehensive sensory systems, decision making and control systems, and data encryption systems. They plan to conduct pilot tests on the new technologies in other Chinese cities outside of Shenzhen, including Macao.
UM's State Key Lab in the Internet of Things for Smart City has a strong research team. Through research studies covering various areas, including modern information technology, communications technology, computational technology, big data, artificial intelligence, and the Internet of Things, the lab aims to search for new solutions for issues that emerge with urban development. The lab also hopes to promote the development of basic scientific research and to achieve breakthroughs in the development of key technologies and interdisciplinary collaboration, in order to support smart city development in Macao, the Greater Bay Area, and other parts of the country. Haylion Technologies Co Limited has more than 30 years of experience in public transport technology. The company aims to develop smart technologies for public transport and to promote the commercialisation of research results in the field.
View gallery