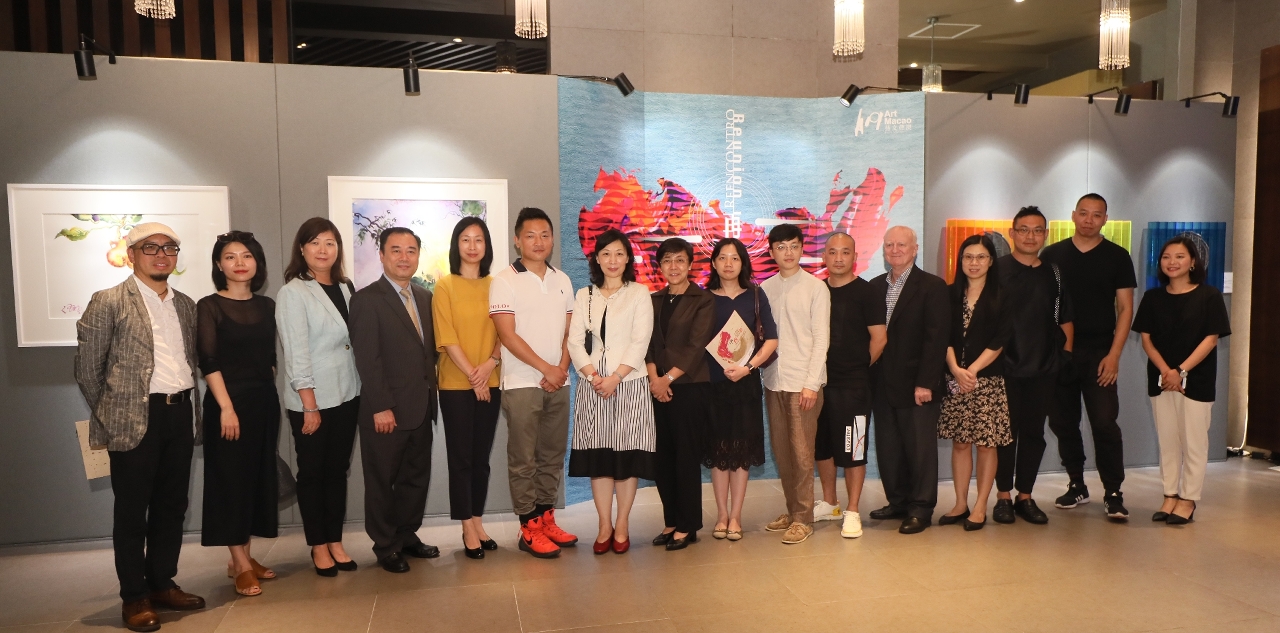 Guests attended the opening ceremony
"Reunion"Group Exhibition of Contemporary Art, one of the events organized under the programme "Art Macao", will be held at the Institute for Tourism Studies (IFT), from 8 August to 13 September. This exhibition presents works of six artists, they have long lived and engaged in artistic creation under the background of different cultures and now yield visual experiences different from their previous works.
"Art Macao" is a large-scale international cultural and art programme led by the Secretary for Social Affairs and Culture (SASC) of Macao SAR Government and is grandly launched in 2019. From June to October, IFT will organise a series of activities named "Art Mingle@IFT" under this programme. The series is intended to gather, blend and showcase the most important features of the Chinese and Western culture and art. There are 3 series of activities for the event which include: Splendid Quintessence - Chinese Calligraphy held in June, "Reunion"Group Exhibition of Contemporary Art and "Data interpretation of the 2018 global art auction market" seminar in August, and in September the University of Education of Hong Kong will be invited to exhibit the art pieces of their teachers and students. The series of event is intended to enrich the cultural life of local citizens, offer more art related activities to visitors and create an exchange opportunity for local and mainland artists.
The exhibition is curated by Mr. Deng Binbin, a famous art connoisseur in Mainland China, six artists from Mainland China and Macao include Wu Li, Xie Qi, Song Gewen, Denis Murrell, Cai Guo Jie and Lai Sio Kit have also been invited to join the exhibition to showcase 17 art pieces of them. Starting from their original cultures and being influenced by diverse cultures of the external world, they finally return to themselves and yield visual experiences different from previous works. Man's life is full of repeated departures and returns, and right now this group of artists all gather in Macao, a city with its special history, thus defining the theme of our exhibition: "Reunion".
IFT also invited Mr. Deng Binbin to host a seminar on "Data interpretation of the 2018 global art auction market" after the opening ceremony of the exhibition, to explore the new trends in the contemporary Chinese art market through data analysis. IFT also invited graduates of Certificate in Art Administration, Certificate in Visual Art Marketing and Management and Certificate in Performing Arts Events Management courses to attend the seminar so as to share with them the latest art industry trend.
The IFT has always been supporting the development of cultural and creative industry of Macao. Through different art courses and exhibitions, it has exposed students and the public to various artistic works. In the future, IFT will continue to provide opportunities to students and citizens to expose to art and also to participate in art creation.
View gallery