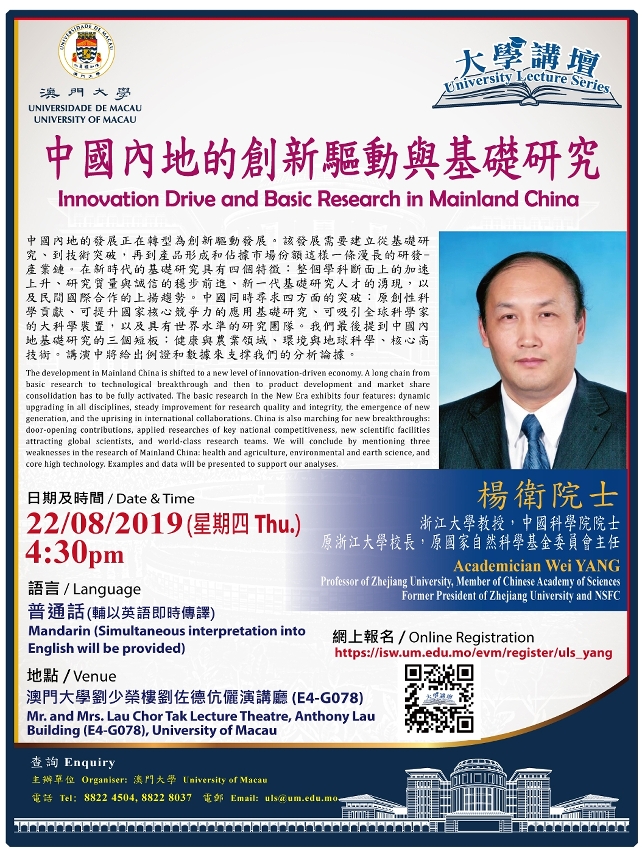 Yang Wei will give a talk at UM on Thursday on innovation-driven development in mainland China
The University of Macau (UM) on 22 August (next Thursday) will hold a lecture on innovation-driven development and basic research in mainland China, as part of the University Lecture Series. Yang Wei, a renowned expert in mechanics, will be the keynote speaker. Yang will discuss the driving force behind innovation in mainland China, its characteristics, and the path forward. All are welcome.
The development of mainland China is shifting to a new model of innovation-driven economy. During the lecture, Yang will focus on this new trend and analyse its basis and characteristics, in order to discuss the four breakthroughs China seeks to achieve: original scientific contributions, applied basic research that can enhance China's national competitiveness, new scientific facilities that can attract scientists from around the world, and the development of world-class research teams. Yang will also discuss the three weaknesses in basic research in mainland China and shed some light on China's innovation-driven development from different perspectives.
Yang is an expert in mechanics and engineering mechanics, a professor at Zhejiang University, and a member of the Chinese Academy of Sciences. He was formerly the president of Zhejiang University and the National Natural Science Foundation of China.
The talk will start at 4:30pm, in Mr & Mrs Lau Chor Tak Lecture Theatre, Anthony Lau Building (E4). It will be conducted in Mandarin, with simultaneous interpretation into English. Those who are interested should complete online registration at https://isw.um.edu.mo/evm/register/uls_yang. For enquiries, please call 8822 4504.
View gallery