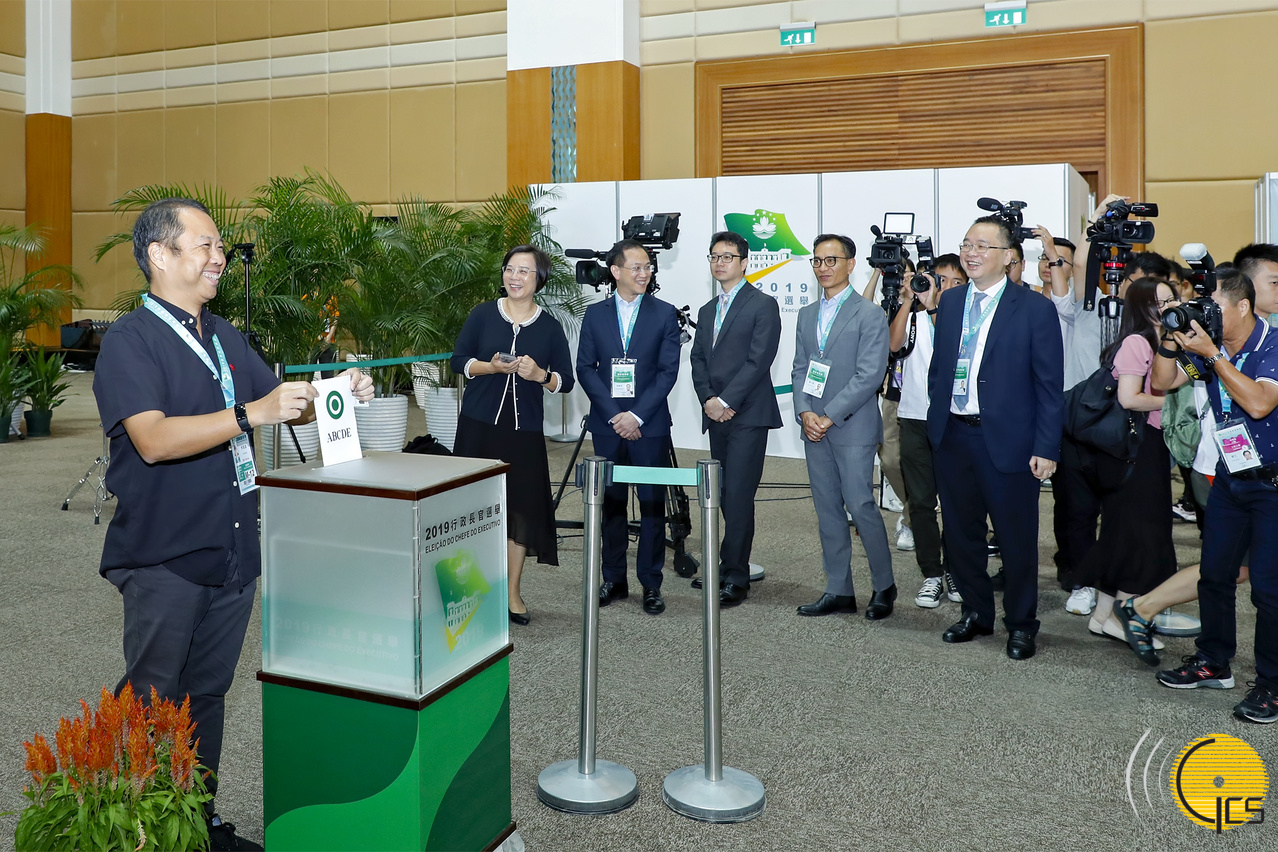 Members of the Electoral Affairs Commission for the Chief Executive Election tour the polling station for the Fifth Chief Executive Election.
Arrangements are in place at the polling station for tomorrow's (Sunday's) Chief Executive Election to ensure the process goes smoothly and in a lawful manner.
The President of the Electoral Affairs Commission for the ChiefExecutive Election, Ms Song Man Lei, made the observation to reporters after a rehearsal session for the polling process for the election of a new Chief Executive for Macao.
The Chief Executive Election is to be held at 10am tomorrow at the Macao East Asian Games Dome. The Commission has anticipated that tomorrow's procedures will take approximately an hour and a half.
The polling station has a total of 30 polling booths and eight ballot boxes. Following today's rehearsal session, the Electoral Affairs Commission reviewed other aspects of the polling venue setup.
In order for members of the Chief Executive Election Committee to register their vote, each member must present their ID card and their respective credential of entitlement to vote. The credential can be obtained tomorrow at the venue, from 9am to 10am, said the Commission's President.
Ms Song issued a reminder that members of the Chief Executive Election Committee should each use a special chop – to be provided by the Electoral Affairs Commission – to mark their ballot paper. Committee members also had an obligation to keep their vote confidential.
The fourth in a series of Commission guidelines had outlined how to fill out the ballot paper.
The guidelines applicable to Chief Executive Election Committee members indicate they are not allowed to use either mobile phones or other recording devices to take either photographs or video images of the ballot paper.
According to the Chief Executive Election Law, no one is permitted – under any circumstances – to solicit any voter to reveal their vote or voting intentions either within the precincts of the polling station or within 100 metres of the polling site.
In addition, no opinion poll or survey regarding candidates for a Chief Executive Election may be published during the period from the start of the campaigning period, to the day following the election.
Any violation either of the Commission's guidelines or the Chief Executive Election Law could amount to a criminal offence, said Ms Song.
In remarks to reporters, Ms Song said the Electoral Affairs Commission was closely monitoring local weather conditions. Should tomorrow's poll be postponed due to the issuing of a Typhoon Signal No. 8, a new election day would be announced within the following five days, as envisaged under the terms of the Chief Executive Election Law.
View gallery