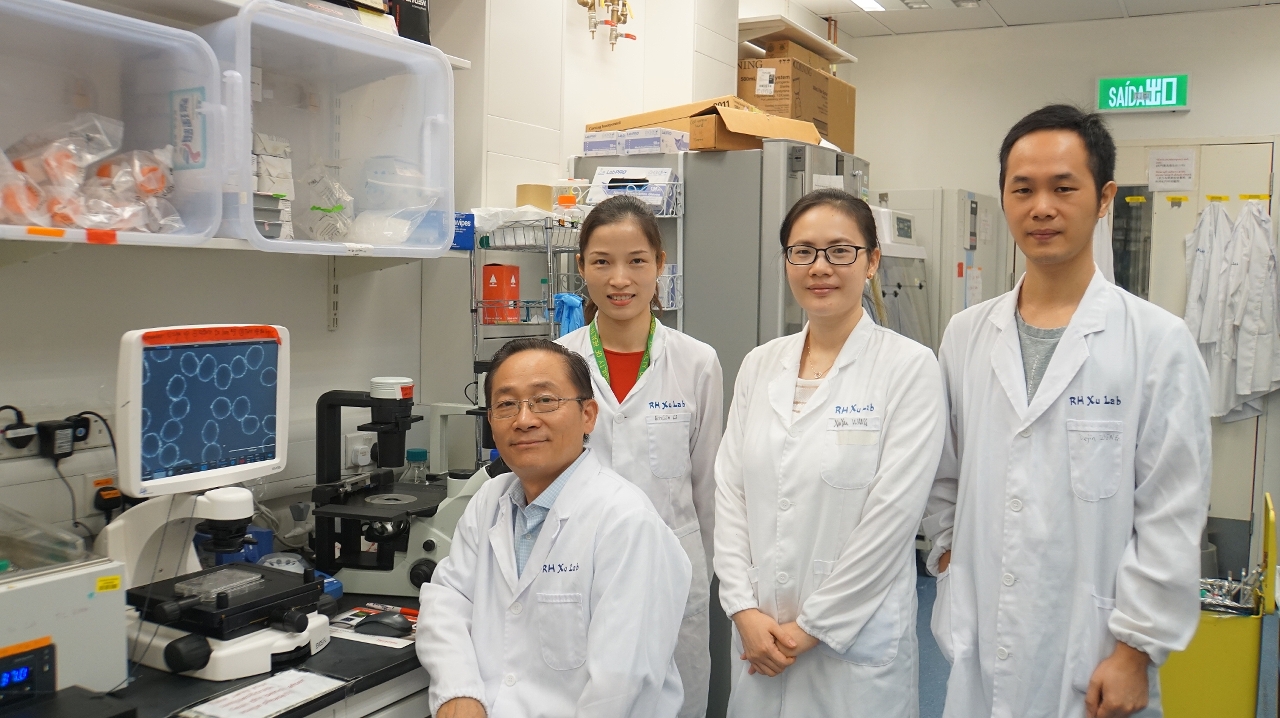 UM has developed a new method to treat skin wounds
A research team from the Faculty of Health Sciences (FHS), University of Macau (UM), has developed a new method to treat skin wounds with stem cell spheres via topical application. Compared with the traditional method of stem cell injection, this new method is non-invasive and efficient. The study has been published in the renowned journal Theranostics (impact factor 8.063).
Titled 'Noninvasive Application of Mesenchymal Stem Cell Spheres Derived from hESC Accelerates Wound Healing in a CXCL12-CXCR4 Axis-dependent Manner', the study was conducted by Prof Xu Ren-He from the FHS, along with his PhD students Wang Xiaoyan, Jiang Bin and Zheng Dejin as well as research assistant Dr Li Enqin. Dr Sun Huiyan, an assistant professor from Jilin University School of Artificial Intelligence provided bioinformatic analysis.
The team has found that mesenchymal stem cells (MSC) spheres can be directly applied to skin wounds. Even in hypoxic and inflammatory environments of the wound, the stem cell spheres can survive much better than dissociated cells and penetrate quickly into the wound to help with epidermal and vascular regeneration. Compared with the traditional method of stem cell injection, this new method greatly improves the survival rate of transplanted cells, and the topical application of the stem cell spheres reduces the pain of the transplantation process. Instead of using MSCs from traditional somatic sources such as bone marrow, adipose and umbilical cord, this study used MSCs differentiated continuously from human embryonic stem cells (hESCs) in an incubator to overcome the limitations of MSC sources. The hESC-derived MSCs have higher viability and better functions than MSCs derived from somatic sources.
At present, the delivery of stem cells mainly relies on intravenous or local injections. These methods cause inconvenience and pain to the patients. Moreover, the injected cells have low vitality and hardly play the expected role. In this study, stem cells are directly dropped onto the wound in the form of spheres, which are visible in the early stage. They can then rapidly migrate to underneath the wound and recruit epidermal cells on the edges of the wound to expand and migrate towards the centre. This new technology is convenient, safe, and efficient.
Combined with the characteristics of spheroid cell storage and transport under ambient conditions, it is expected to provide a new way for skin wound treatment. In order to improve the biosafety of the method and eliminate the tumorigenic concern of stem cells, the researchers inserted a suicide gene into the stem cell genome, which can kill the remaining stem cells and their derivatives after the therapy by injecting a small chemical drug that triggers the expression of the suicide gene.
This project was funded by UM and the Macao Science and Technology Development Fund. A patent application for the technology has been filed. For more information, please visit http://www.thno.org/v09p6112s1.pdf.
View gallery