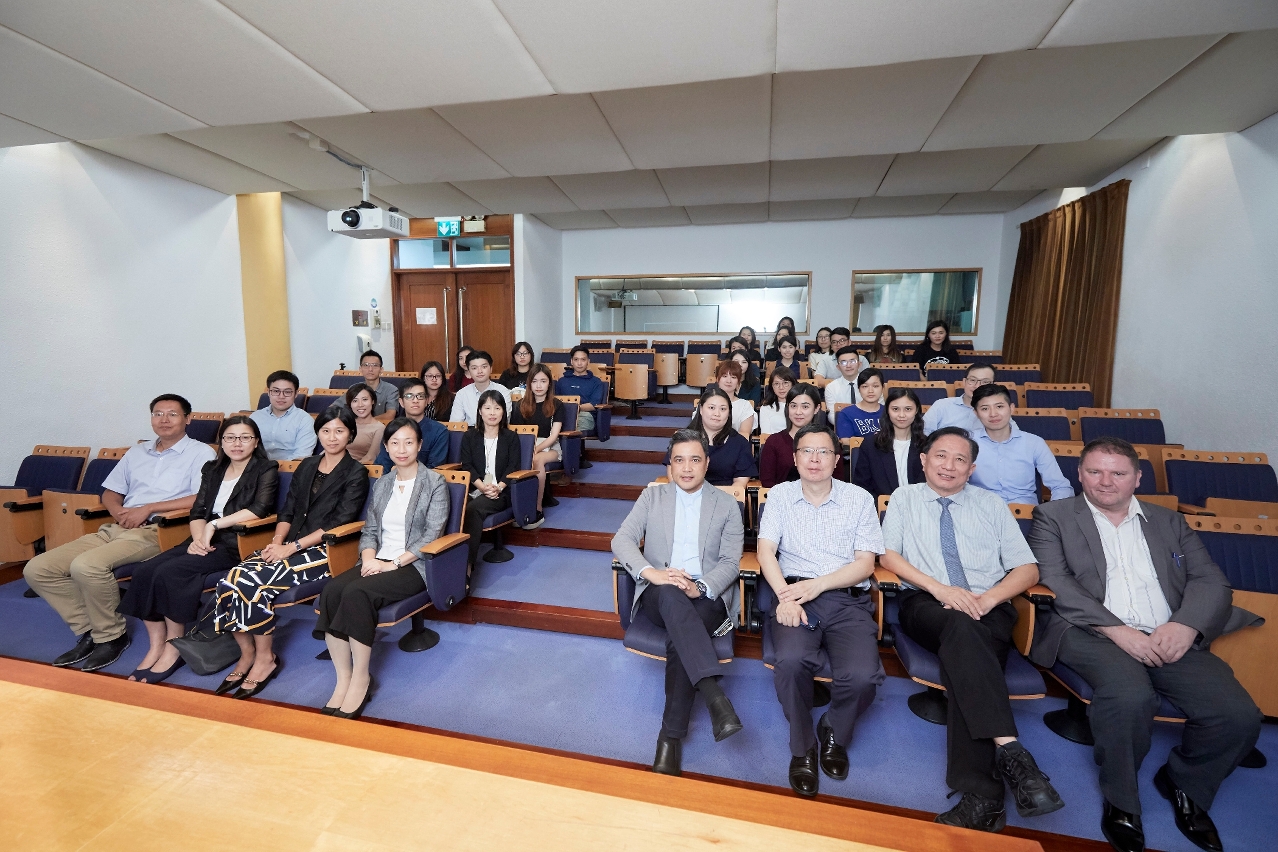 President and faculty of IFT took a group photo with Postgraduate students
In order to meet the demand of the tourism industry for high calibre talents and heed the call of industry development, the Macao Institute for Tourism Studies (IFT) has launched new postgraduate diploma and master programmes for the academic year 2019/20, with class started on 26 August. By offering such quality postgraduate programmes, the IFT aims to produce high calibre talents, enhance the overall service and management quality of the tourism industry, and increase the overall competitiveness of Macao as a tourist destination. Collectively, these will help build Macao into a "tourism education and training base of the Guangdong-Hong Kong-Macao Greater Bay Area".
The IFT launched the Postgraduate Diploma in International Hospitality and Tourism Management in the academic year 2019/2020 which admitted a total of 3 students. Such MSc programmes as International Hospitality Management, Hospitality and Tourism Management as well as International Food and Beverage Management enrolled 37 students. Upon completion of the postgraduate diploma programme, credits earned can be transferred to the master programmes of IFT, thereby accelerating completion.
With the implementation of the Higher Education System, IFT can offer Postgraduate Diplomas, Master's and PhD programmes to make full use of quality educational resources in producing high calibre tourism talents. Following the start of the postgraduate diplomas and master programmes, the application for PhD programme in Hospitality and Tourism Management is currently under review and the admission results will be released shortly.
The Outline Development Plan for the Guangdong-Hong Kong-Macao Greater Bay Area has put forward that Macao should use its competitiveness in tourism education and training, and tourism development experience to develop the city into a tourism education and training base of the Guangdong-Hong Kong-Macao Greater Bay Area. With this positioning, the IFT, a local higher education institution specialising in the training of tourism professionals, launches postgraduate programmes to help enhance the competence of tourism professionals in Macao and the Greater Bay Area.
IFT ranked the first in Macao in the list of QS World University Ranking of Hospitality & Leisure Management. This year, IFT has been for the first time inscribed in the list of best disciplines by Shanghai Soft Science Ranking, ranking the highest in Macao, which testifies the recognition of IFT's education quality.
Macao has made outstanding achievements in tourism development and has been designated as a "Creative City of Gastronomy" by UNESCO, creating favourable conditions for IFT to launch higher-level programmes. IFT will make full use of various resources at its disposal to produce more high calibre talents for Macao, so as to assist Macao in developing into a world tourism leisure centre and the tourism education training base of the Guangdong-Hong Kong-Macao Greater Bay Area, whereby contributing to the development of tourism in Macao and also the Greater Bay Area.
View gallery