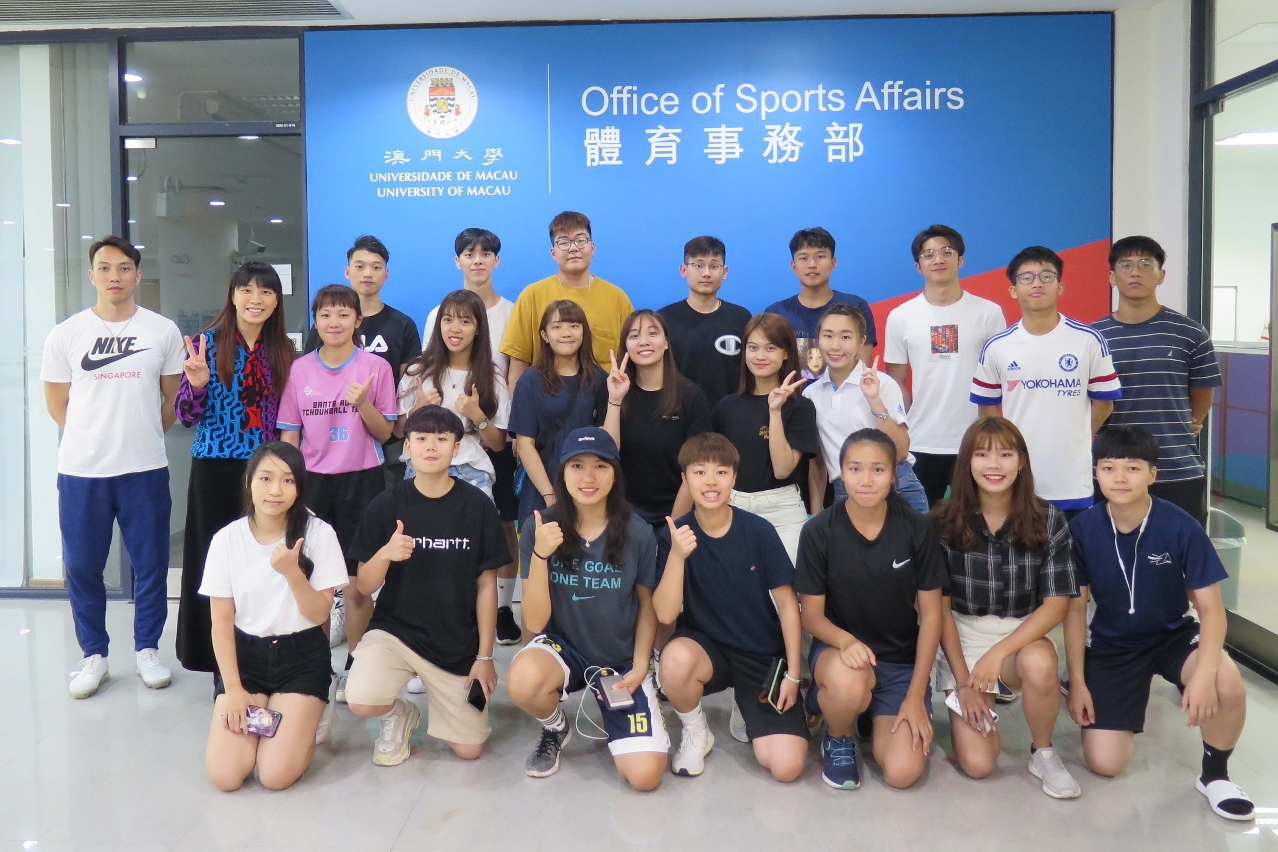 UM has admitted 24 outstanding local student athletes this year
This year, the University of Macau (UM) admitted 24 outstanding local student athletes through the Outstanding Student-Athletes Admission Scheme. Grace Chau, director of the Office of Sports Affairs at UM, says that the scheme aims to award outstanding student athletes from Macao who have attained outstanding achievements and to encourage them to excel in their studies and create new records in their sports.
All students admitted through the Outstanding Student-Athletes Admission Scheme will receive scholarships that come in three categories based on their performance in sports and the admission interview. Recipients of the University of Macau Golden Lotus Scholarship will be fully exempt from tuition fees for the first academic year. Recipients of the University of Macau Silver Lotus Scholarship only need to pay half of the tuition fees for the first academic year. Recipients of the University of Macau First Year Scholarship will receive a one-off scholarship worth MOP 10,000. The scholarships can be renewed each year based on the recipients' academic and athletic performance. Grace Chau says that the scheme aims to provide an opportunity for outstanding student athletes from Macao to study at UM, and to encourage them to excel both academically and athletically.
Tang Chi Hou, a new student in the Faculty of Business Administration (FBA), is a volleyball player. He joined the Macao Volleyball Team during the third year in his high school, the Salesian Institute. So far, he has played in two men's volleyball tournaments in Asia, in 2018 and 2019, respectively. Currently, he is a member of the UM Men's Volleyball Team. With a height of over 1.9 metre, Tang attracts a lot of attention when he walks on the corridors in the classroom buildings. As he recalls, he was chosen by his teacher in primary school to play volleyball because of his height, and he fell in love with the sport. Tang says he loves the team spirit behind volleyball. 'It is important to trust your teammates and give them complete support during the game,' he says. 'This is how team spirit is fostered.'
Tang's family used to worry that he might spend too much time on volleyball and neglect his schoolwork. Tang proved them wrong. Now a major in international integrated resort management, he believes this academic field has enormous potential. In the future, he will continue to play hard and study hard at the same time.
Chan Chi Iong in the Faculty of Education has been a basketball enthusiast since childhood. While studying at Our Lady of Fatima Girls School, Macau, she represented her school at many local competitions and stood out from her peers with outstanding performance. After entering UM, she joined the university's Women's Basketball Team, and began training in July. Although most young women in Macao try to avoid sun exposure wherever possible, Chan does not mind training under the sun. 'I like basketball too much to worry about the sun. However, it is a blessing that there are indoor basketball courts in the Sports Complex,' she says.
According to Chan, she chose UM because of the recommendation of her friends from the basketball team. They told her that UM not only has the best learning atmosphere among all higher education institutions in Macao; it also has the best sports facilities and resources for student athletes in Macao.
Choi Ngou Fai in the FBA is an excellent swimmer. He started learning how to swim at a young age to enhance his cardiovascular function, and he has never looked back. He has won awards at various international competitions. While studying in Macau Anglican College, Choi represented Macao at different competitions outside Macao, including the Pan Pacific Swimming Championships and a world swimming championships(25m) held in the Netherlands. Choi has fond memories of the latter competition because he achieved his personal best record of 29 seconds in the 50-metre breaststroke category, becoming the fifth person in Macao to achieve this record (one of the other four swimmers who achieved this record is Chao Man Hou, who is an alumnus of UM ). 'It was the first time I had finished 25 metres within 29 seconds. I was very happy,' says Choi.
Choi's English is quite good. Originally, he thought about studying abroad, but that would mean giving up swimming. 'There are not many universities out there that will allow me to focus on swimming,' he says Choi. 'I didn't want to give up swimming for school.' Only hard training can yield good results. So Choi has put together a class schedule that allows him to train four to five times per week in order to prepare for the upcoming Asian Games.
View gallery