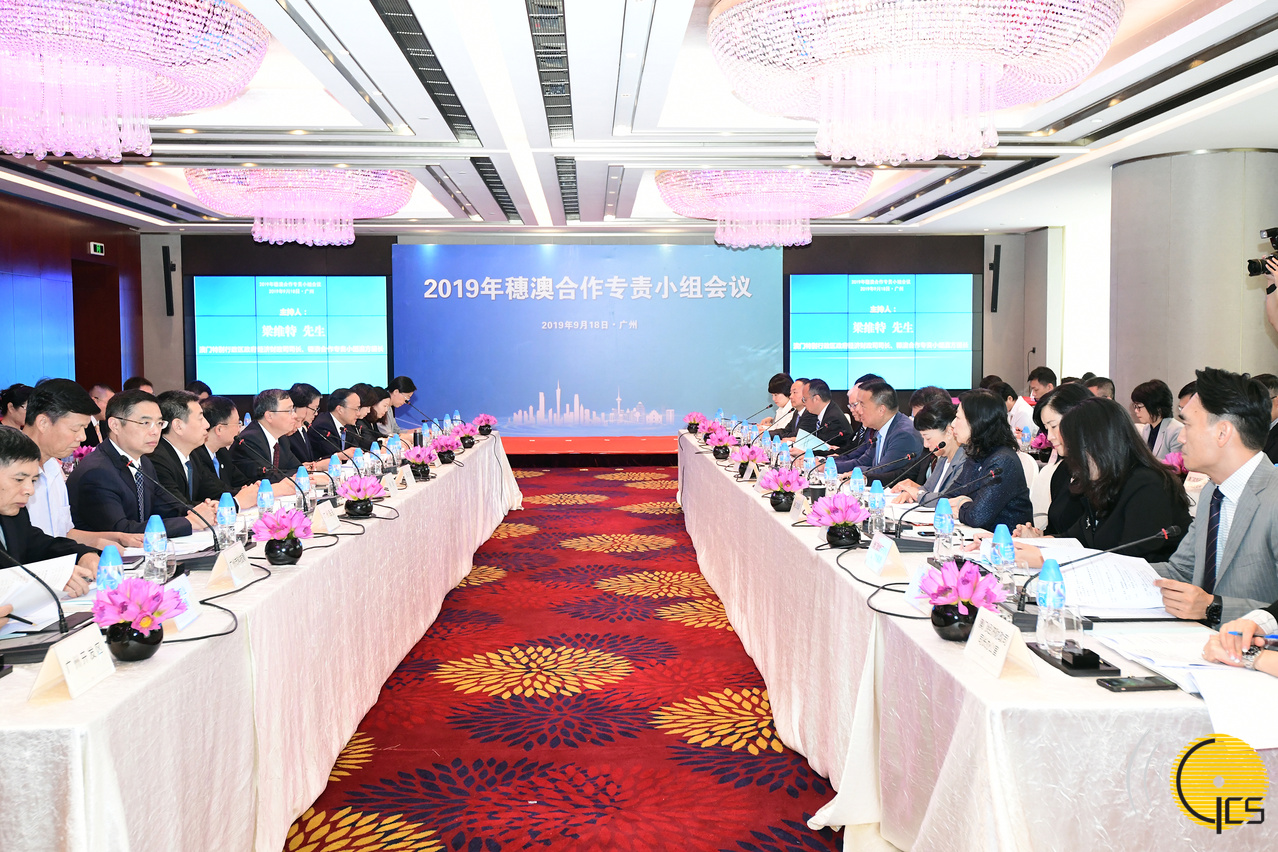 The 2019 Guangzhou-Macao Cooperation Task Force meeting is held in Guangzhou.
The Guangdong-Hong Kong-Macao Greater Bay Area (Greater Bay Area) would create further favourable conditions for deepening Macao-Guangzhou cooperation, said today the Secretary for Economy and Finance, Mr Leong Vai Tac.
Mr Leong was speaking at the 2019 Guangzhou-Macao Cooperation Task Force meeting held in Guangzhou. The meeting was co-chaired by member of the Standing Committee of the Communist Party of China (CPC) Guangzhou Municipal Committee and Executive Vice Mayor of Guangzhou, Mr Chen Zhiying.
During the meeting, the representatives of the two places exchanged views on how to accelerate joint contributions regarding development of the Greater Bay Area. That city-cluster initiative comprises nine urban centres in Guangdong Province – including Guangzhou – and the two Special Administrative Regions (SARs), Hong Kong and Macao.
Guangzhou and Macao also explored during today's meeting opportunities for cooperation in: betterment of livelihoods; science and technology; youth entrepreneurship; traditional Chinese medicine; and cultural affairs.
A total of three agreements was signed during today's meeting, regarding: cooperation in science and in technology industries; cooperation between the Guangzhou Statistics Bureau and the Macao Statistics and Census Service; and concerning the building of an exhibition and trade centre in the Nansha district of Guangzhou, relating to products from Portuguese-speaking countries or places.
In his speech, Mr Leong shared insights on how to complement Macao's strategic roles in terms of fostering cooperation between Greater Bay Area cities.
Mr Leong pointed out that Macao's connections with Latin America, with the European Union and with Africa would help other Greater Bay Area cities achieve quality in terms of opening up their economies. He added that Greater Bay Area cities could explore economic and trade opportunities available in the markets of Portuguese-speaking countries and places, and of Europe.
Bettering the livelihoods of people was a major goal for Macao-Guangzhou cooperation, said Mr Leong. A scheme to enhance supply of fresh food within Greater Bay Area cities had been initiated in May, expanding Macao's sources for such commodities, Mr Leong noted. The scheme also facilitated closer cooperation between relevant sectors in Guangzhou and Macao, he added.
Mr Leong said that – regarding youth opportunities – the Outline Development Plan for the Guangdong-Hong Kong-Macao Greater Bay Area had provided Macao young people with fresh chances to engage in entrepreneurship and seek employment in other Greater Bay Area cities. He said he looked forward to closer bilateral ties in order to assist the integration of the role of Macao young people within the Greater Bay Area.
At today's meeting, Mr Chen also delivered a speech, sharing his thoughts on four major aspects of Guangzhou and Macao cooperation. They concerned: closer coordination regarding top-level design in order to realise goals mentioned in the outline development plan for Greater Bay Area; further effort to complement the respective strengths of the two places, in order to build a globally-competitive modern industrial system; further contributions to the "Belt and Road" initiative and the nurturing of new projects for Guangzhou and Macao cooperation; and further effort to enhance people's livelihoods and to build a quality city cluster with favourable conditions for living and travel.
View gallery