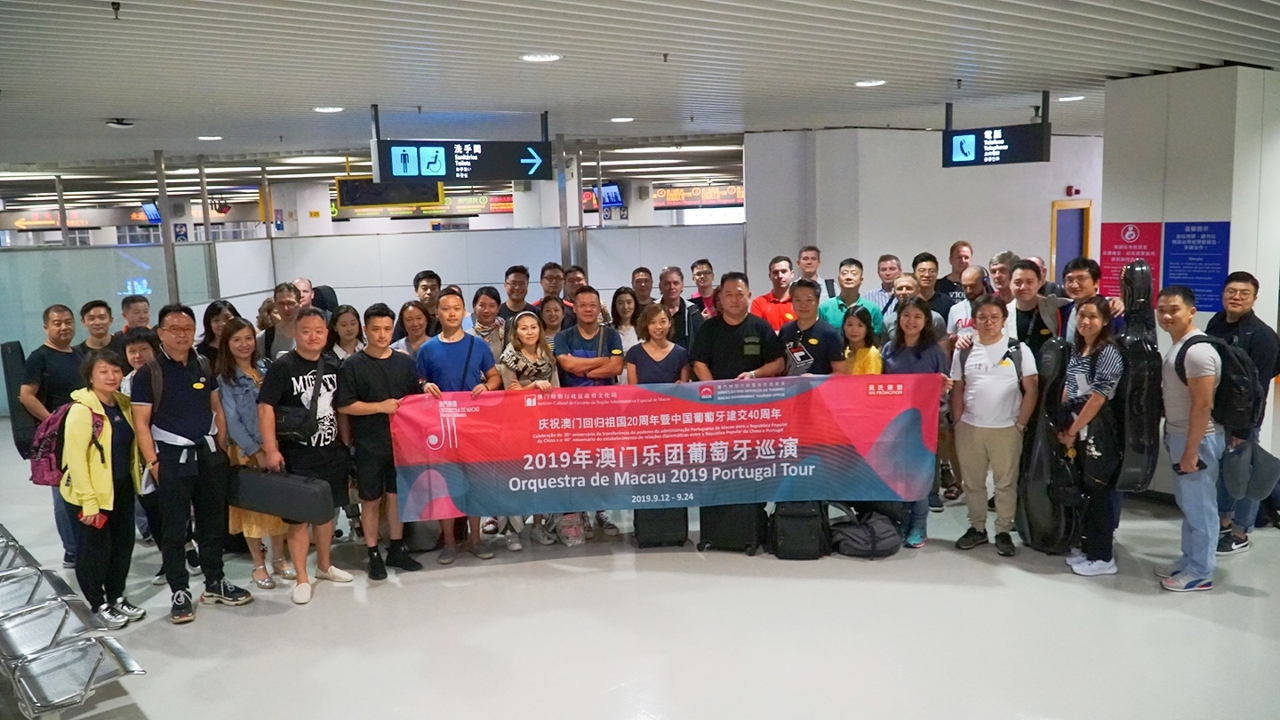 Macao Orchestra tours in Portugal and showcases Macao's cultural achievements
In celebration of the 70th anniversary of the founding of the People's Republic of China, the 40th anniversary of the establishment of diplomatic relations between China and Portugal and the 20th anniversary of Macao's Handover to China, the Macao Orchestra (OM, from the Portuguese acronym) embarked a tour in Portugal, co-organized by the Cultural Affairs Bureau and the Macao Government Tourism Office, performing in four cities namely, Évora, Coimbra, Portalegre, and Lisbon. During the visit, OM will participate in the world-famous Marvão International Music Festival in Portalegre and the Festival TODOS in Lisbon.
Over the past three decades, OM has played the role of Macao's cultural ambassador, and has frequently visited Mainland China and overseas cities, leaving its footprint all over the world. Following its European tour in 2015, this year OM, led by Music Director and Principal Conductor, Lu Jia, will take to the international stage again, in collaboration with German-born Korean violinist Clara-Jumi Kang, to present three classical works in the four cities in Portugal, namely Dvořák's Carnival Overture, Jean Sibelius' Violin Concerto in D minor and Tchaikovsky's Symphony No.5 in E minor. In the second stop of the tour in Coimbra, OM will perform with Orquestra Clássica de Coimbra; while in the third stop in Portalegre, OM will participate in the Marvão International Music Festival, one of the major musical events in Portugal, for exchanges with excellent music groups from around the world. In the last stop in Lisbon, the Orchestra will perform at the influential Festival TODOS, drawing the tour to a perfect finale.
The tour will further deepen the artistic exchanges and cooperation between Macao and Portugal. Through the Chinese and Western classics from ancient and modern period, OM seeks to present the cultural and artistic appeal of Macao to Portuguese audience and promote Sino-Lusophone cultural exchange. With a dedicated repertoire in German and Austrian symphonic works, the Macao Orchestra will continue to adhere to its exquisite, subtle and rigorous performing style, striving to promote the development of classical music and highlighting the distinctive features of Macao's cultural brand as an international city.
View gallery