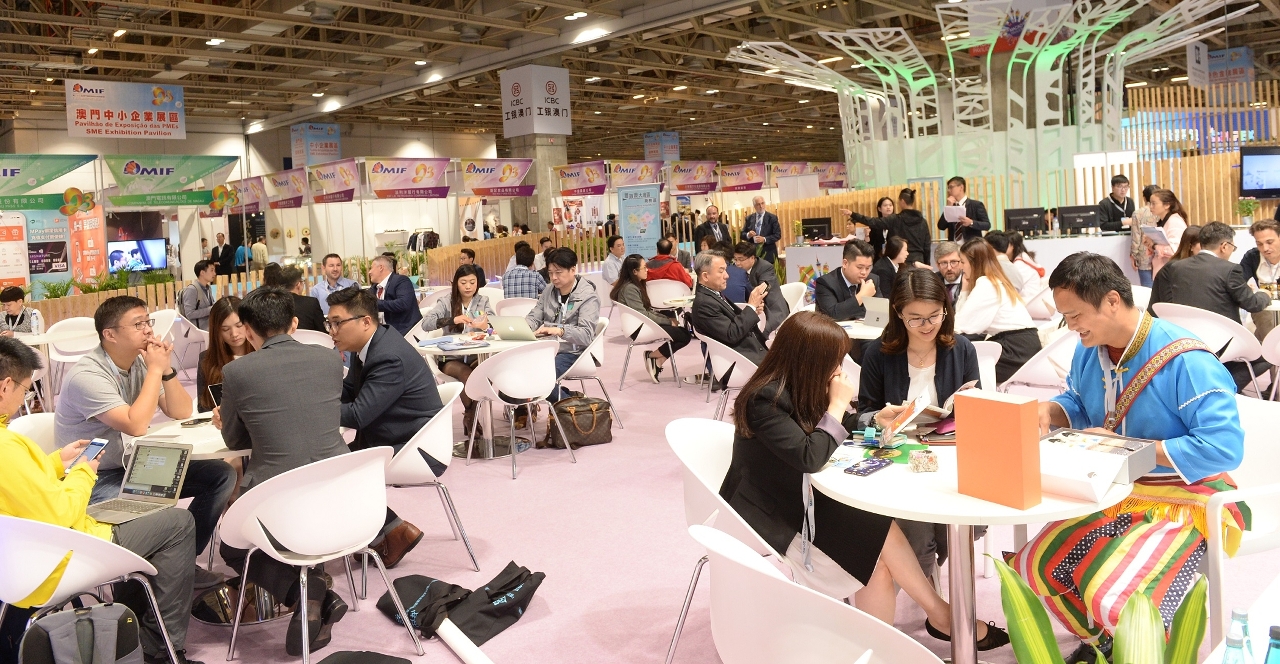 The "Macao International Trade and Investment Fair" and the "Portuguese Speaking Countries Products and Services Exhibition (Macao)" providing free professional business matching services for companies
"The 24th Macao International Trade and Investment Fair" (24th MIF) and "The 2019 Portuguese Speaking Countries Products and Services Exhibition (Macao)" (2019PLPEX) are to be concurrently held from October 17 to 19 at The Venetian Macao. Review the past editions, many businessmen successfully found new partners and business opportunities thanks to the synergistic effect, diverse activities and pairing services of the two fairs.
According to Mr Chen, head of an enterprise engaged in agricultural and related products from Guizhou Province, he first participated in the fairs last year and it was rewarding. He signed a co-operation agreement with a Macao enterprise to bring his enterprise's drinking water into Macao by leveraging the platform provided by the fairs. Moreover, for each bottle of water the Macao enterprise sells, a certain amount of money will be donated to low-income families in Congjiang County, helping to free them from poverty, which is of double significance. Three major enterprises with intention to expand their purchase and supply channels for agricultural products kept close connections with Mr Chen. Joining the fairs for the second time this year, he looks forward to finding more chances to co-operate with enterprises from Portuguese-speaking countries and Macao, thus getting into international markets.
Mr Stefan Renziehausen, a representative of a global software enterprise, remarked that he gained a lot through the platform provided by the fairs last year. For a newly founded company, the fairs provided chances for business promotion through contact with more enterprises, which is conductive to introducing the company's products and technological innovation. At the same time, he was also enabled to build close partnership with enterprises from around the world, while boosting business growth for his firm. The company signed a letter of intent with a Hong Kong company through last year's fairs, and it will continue to take part in this year's fairs, hoping to reach more local clients for mutual benefit.
The representative of a local comprehensive economic and trade group said that last year's fairs proved to be fruitful, during which several letters of intent were signed. A hotel management company that was part of the group signed a letter of intent for strategic co-operation with the People's Government of Congjiang County. They intended to work together on the planning of tourism development for Congjiang, sale of subsidiary agricultural products and hotel projects. The two sides expected to facilitate local economic growth and support Macao in its effort to help Congjiang County through win-win co-operation. A logistics company affiliated to the group also signed a letter of intent with an enterprise from Guangdong Province, agreeing to collaboratively conducting extensive business co-operation and exploring Mainland markets. They hoped to lead Macao companies to "go global" and integrate into the overall development of the country and push forward concerted development of the Greater Bay Area. The group is returning this year.
This year's MIF and PLPEX will provide professional business matching services for free. Exhibitors can find suitable exhibitors, suppliers or buyers for business co-operation through their registered account on the "Online Business Matching Service Platform" (http://bm.ipim.gov.mo/). For enquiries regarding MIF or PLPEX, please contact the MIF and PLPEX Administrative and Service Centre (Tel: +853-2882 8711, Email: info@mif.com.mo / info@plpex.mo), or visit the website: www.mif.com.mo or www.plpex.mo.
View gallery