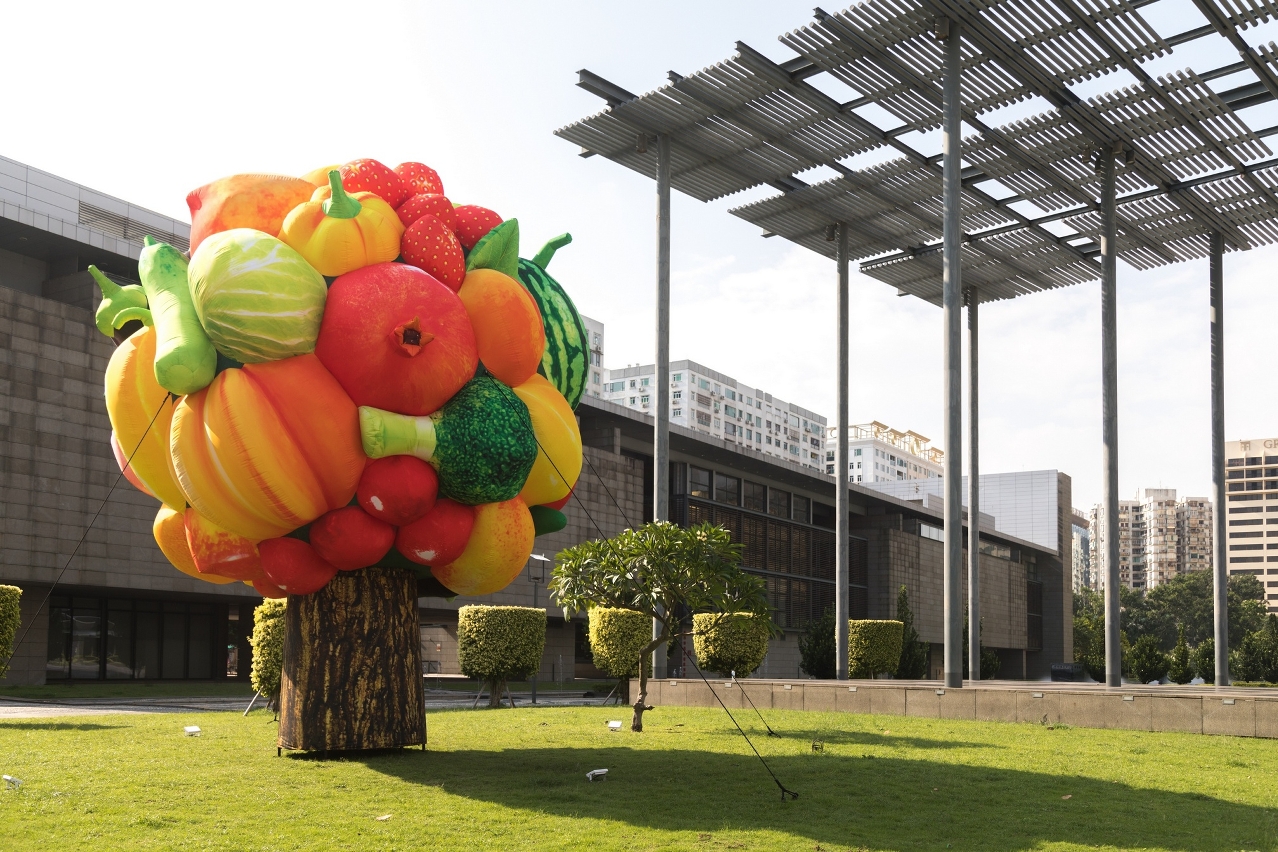 Art Macao's giant "Fruit Tree" erected at the Art Plaza of Macao Cultural Centre
The mega international art event "Art Macao" brings a series of splendid and diverse cross-platform artistic activities to the city, attracting many art aficionados and tourists from around the world. The giant "Fruit Tree" created by South Korean artist Choi Jeong-Hwa, dubbed the Father of South Korean Pop Art Installations, was erected at the Art Plaza of the Macao Cultural Centre. As one of the highlighted mega outdoor installations of Art Macao, it is an impressive artwork which should not be missed.
The South Korean artist, Choi Jeong-Hwa, is adept at taking materials from daily life, ordinary items and abandoned objects of no interest, and turning them into stunning artworks. His projects usually revolve around day-to-day life which are usually vivid in colour and of dramatically large size, aiming to bring a strong visual impact to the audience. The works, seemingly real yet are nonetheless illusory, pull the audience towards the art and provoke reflection.
The work "Fruit Tree", with the support of Sands China Limited, is made with steel and fabric materials. This seven-meter tall installation is an artificial cornucopia bountiful with fake, colourful fruits and vegetables in disproportionate size bursting out from its trunks. This inflatable sculpture evaluates the dichotomous relationships between what is real and synthetic, natural and artificial, landscapes and urbanity. Before Macao, the "Fruit Tree" was exhibited in various exhibitions in many cities, including the Bangkok Art Biennale in Thailand (2018), the Asia Corridor Contemporary Art Exhibition at Nijo Castle in Kyoto, Japan (2017), Megacities Asia at the Museum of Fine Arts in Boston, the United States (2016), Lille3000 on 'Renaissance' (2015) - an integrated cultural and art event presented by artists from European and Asian cities and the Busan Biennale in South Korea (2014), among others.
For more information about "Art Macao", please refer to the respective website at www.artmacao.mo, the Instagram (IG) account "artmacao", "IC Art" page on Facebook, WeChat account "ICmacao" or download the mobile application "Art Macao".
View gallery